Hello, I'm Marnie, the owner of Marnie's Magnificent Meandering Carnival! We're new to Kinzville and want to restore the old carnival grounds to their former glory. But we'll need your help!
See, we want to unveil our marvelous new rides and attractions, but first they need some names—and this is where you come in! Myself and my friends at Webkinz Friends HQ would LOVE to hear YOUR name ideas for…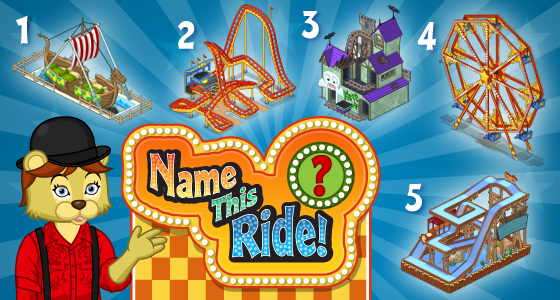 1. A swooping high seas adventure!
2. A thrilling ride in the sky!
3. A spectacularly spooky attraction!
4. A stunning piece of Carnival history!
5.  The best way to make a splash!
Aren't they beauties?
Click here to send us your suggestions! We'll choose the three best for each ride and then let all users vote for their favorite. And because we're carnival folk and LOVE fun prizes, here's what the winning submitters receive:
All 5 rides in the Facebook game
Chosen name appears on the rides in both the Facebook and iPad versions of Webkinz Friends
500 KinzGems
1 Webkinz.com 1 Year Deluxe Membership
2 Webkinz pet codes
So many prizes!  Just remember…
Names must be 2 rows of max. 8 characters
Suggestions must be in by Friday, March 15, 2013
Voting will be live from March 19-29, 2013
Winners will be announced April 4, 2013 on GanzWorld and the Webkinz Friends Facebook fan page
Become a part of Kinzville history and send us your ideas today!
Play Webkinz Friends on iPad or on Facebook*!