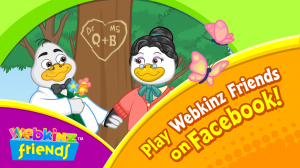 Want to learn more about the budding romance between Dr. Quack and Ms. Birdy? There's more than one way to catch up with these lovebirds!
- play Webkinz Friends on Facebook
- download Webkinz Friends to your iPad
With two ways to play you never have to miss out on all the latest developments in Kinzville!
And be sure to visit the Webkinz Friends Fan Page to download an exclusive desktop wallpaper featuring Dr. Quack and Ms. Birdy!