Webkinz Day is a busy time for the Webkinz Newz Team! Not only is Ella working hard in the Webkinz Newz Room in the Clubhouse between April 22 and 28, the rest of the team can also be found all over Webkinz World, reporting on all the fun events!
You'll be able to visit Ella McWoof in the Webkinz Newz Room. You'll find her blogging away at her desk. The first time you click on her each day, you'll be awarded one of four pieces of the Webkinz Newz Team uniform.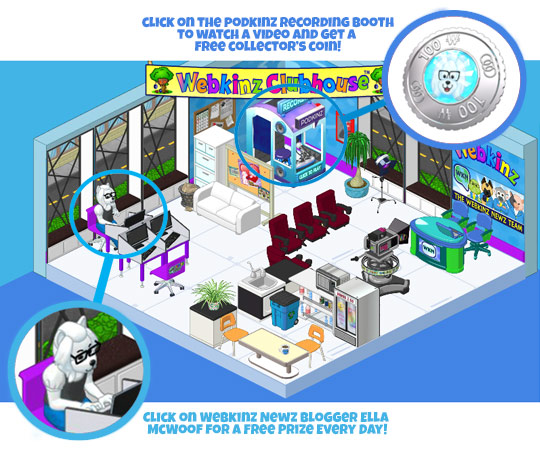 You'll also be able to watch the Kiwi Party Challenge video by clicking on the Podkinz recording booth. The first time you watch each day, you'll be awarded a Webkinz Newz Collector's Coin featuring Ella McWoof!
This is your chance to meet the team! You already know where to find Ella. And between April 22 and 28, you can also meet:
Michael Webkinz in Kinzville Park
Steve Webkinz on your Map of Kinzville
Mandy Webkinz on Webkinz Newz
And roving reporter Sally Webkinz floating around Newz
webkinz newz week
Once a day, when you click on each of the Newz team, you'll receive a giftbox which includes:
that character's signed poster OR unsigned poster OR coin
1 random Pet Medallion
1 WKN Soda
webkinz newz week
Be sure to look for each of the characters every day to try and collect all the prizes!
Plus, you'll want to stock up on Webkinz Newz Soda, because the team are also planning a Kiwi party on Webkinz Day to welcome our new fan-designed Medallion Pet! The Newz Team needs your help with the party planning! Help them out by completing the Kiwi Welcome Party Challenge in Webkinz World! Learn more at Webkinz Newz!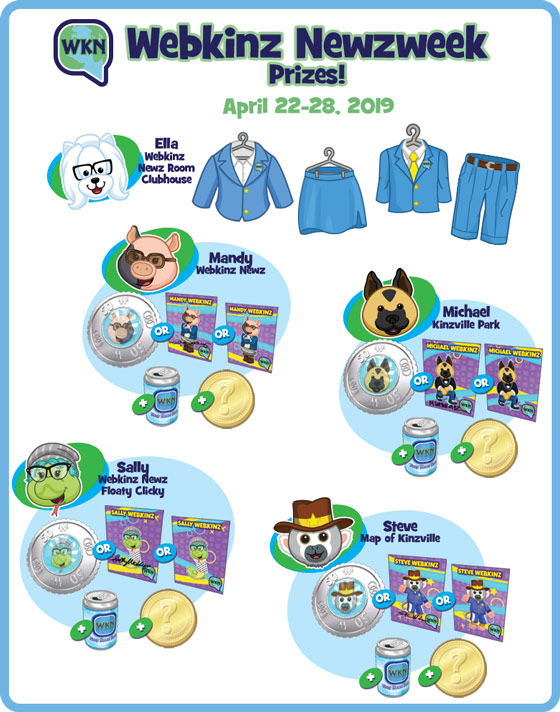 Reminder: Events on Webkinz Newz reset at midnight GMT, which is 8pm EST. Please make sure you wait 24 hours between attempts, or keep the reset time in mind when collecting your prizes.