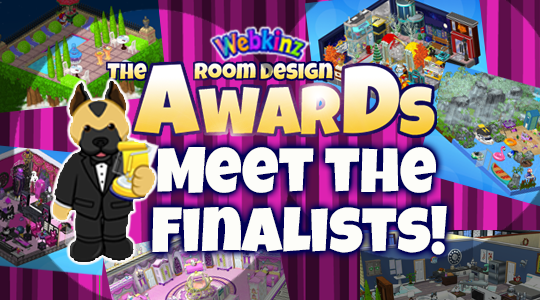 The Room Design Awards have arrived, and it's time to meet the finalists! I tried to pick players who have never won a Room Design Trophy in the past. Please take the time to look at each design closely, because on Friday, December 10, you'll be able to vote for your favorite designs and help decide who will earn a rare Room Design Trophy! Congratulations finalists… and good luck!
Only 10 finalists will take home a Room Design Trophy. 6 winners will be decided by a vote on Webkinz Newz. From Friday, December 10 – Sunday, December 12 (ending @ midnight, EST), players can vote for their top 5 favorite designs. The 6 designers who receive the most votes will be awarded a Room Design Trophy. The final 4 winners will be chosen by the Webkinz Newz Team. Sally, Mandy, Steve and I will each choose our favorite room design and the designers will be awarded a Room Design Trophy.
Congratulations again to all the finalists! Results will be announced on Monday, December 13. If you are chosen as a winner, please check your inbox for an email that will explain how to get your trophy.