Hey, readers! Guess who's back? That's right! It's me, Elwin, back where I belong! Hailey and I are back in the swing of things and we just got a great assignment from Ms. Cowoline. She found some KinzCash in her budget to expand the art program at the KVA and she asked us to take charge of the redesign of the Art Room. The room was quite attractive to begin with, but Ms. Cowoline wanted us to use some items from the Creative Studio line to offer her students more opportunities to work with different media, as well as adding pottery to the curriculum.
Here is the old art room. It's actually pretty funky, right? I really like that orange wallpaper. The only thing is, I think that having such colorful walls could detract from the awesome artwork the students are creating and Hailey and thought that maybe a more neutral background would help to highlight their masterpieces. Also, while the teacher had put up some nice artwork from the W Shop and her own collection to inspire the students, we thought that the students' own works should be showcased on the walls.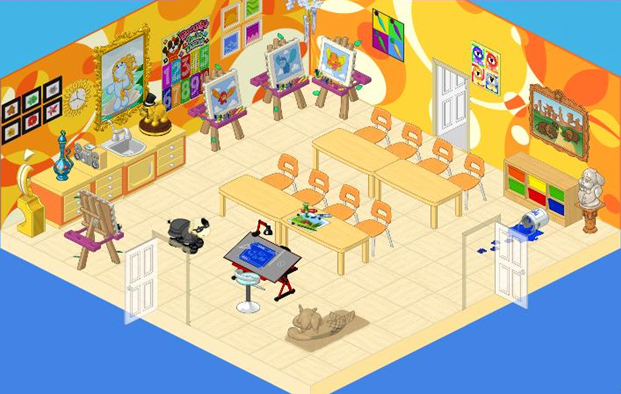 So Hailey and I went with new neutral Beachhouse Flooring because we thought the muted shades would reduce glare from the overhead lights when the students are trying to focus. The Blue Sky Wallpaper has a dreamy quality that we felt would inspire without being overpowering.  Two bigger sinks were added to help with clean up and we replaced the tables with Art Easels, but we did add a few craft paper covered tables in the corner that can be pulled out and used when students need a flat surface to work on. The art teacher got a crafty new drafting table, fully stocked with supplies and her own Charming Charcoal Easel where she can demonstrate techniques to her students. We hung some Fashion Fabric Rolls on the wall that the kids can use for crafts, and in the corner we included both an Art Station and a Storage Workbench. The opposite corner is the sculpting area, complete with a couple of Potter's Wheels and a Potter Kiln Oven.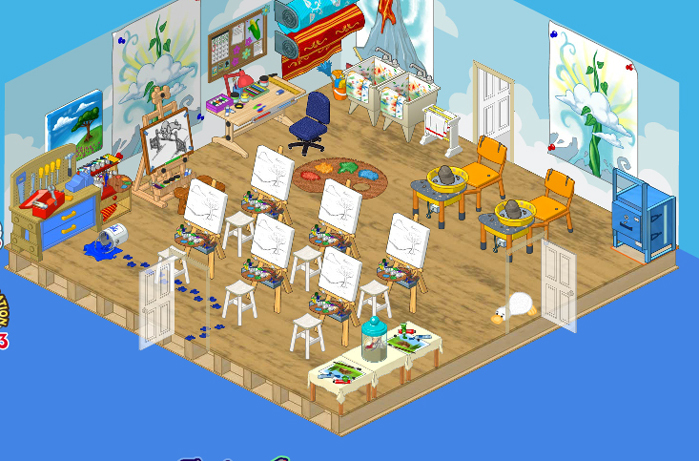 Ms. Cowoline was very happy with the results and we think the students will be able to create some awesome art in their new space.