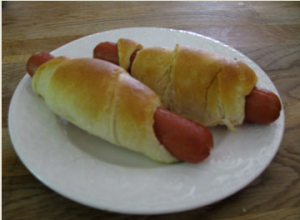 What you need:
-          1 package hot dogs
-          1 package crescent roll dough
-          Popsicle sticks
-          Adult assistant
What you do:
1.       With the help of an adult assistant, preheat the oven to 375°.
2.       Wrap each hot dog with one uncooked crescent roll.
3.       Poke wooden pop stick in end of hot dog and place on ungreased cookie sheet. Bake for 15 minutes.
4.       A fun alternative to regular hot dogs and buns, these 'hot pops' make perfect grab'n'go snacks.