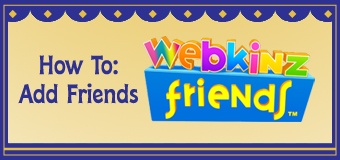 There are lots of benefits to having more friends in Webkinz Friends, such as completing Challenges faster, having more places to visit and harvest, having more folks to send and receive gifts with, and more!
Want to increase your friend list? Here's how:
On Facebook:
First, add or accept friends as Facebook friends. Click on the Friend Request tab at the top right of your Facebook screen to do so.
Enter the Webkinz Friends game.
Click on 'Add a Friend' at the far right of your Friend List bar (at the bottom of your screen).
Choose a friend (or many friends!) and click 'Send Requests'.
On the iPad:
Open the Webkinz Friends app.
Tap the 'Friends' button in the top right corner of the screen.
Click on 'Add' at the bottom of the window.
Enter your friend's Gamecenter username.
It's that easy! Have fun playing Webkinz Friends!