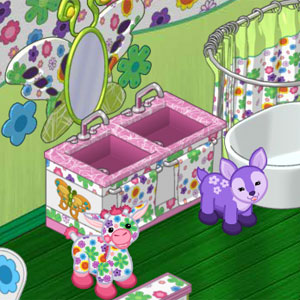 NEW THIS WEEK!
If your pet prefers a little privacy, pick up the Petal Print Privacy Shower that will let them wash up in peace!
The colorful Pink Petal Sink is the perfect place for your pet to wash up and makes themselves pretty!!
Stay tuned for more Petal Print Room Theme items coming in September!


Celebrate being a Deluxe Advantage eStore Customer with Deluxe Wednesdays! Every Wednesday, Deluxe Advantage eStore Customers can be the first to enjoy exclusive sales and Webkinz World Online Items before they are made available to anyone else!
You may find these items and so much more at both Ganz and Webkinz eStores!