It's me, Fiona, back for another round of fan mail! As always, for my past answers, click here!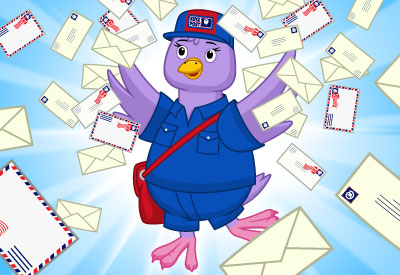 Hey Fiona, I saw these Wacky Zingos plush toys and I'm wondering if you can still use the code to unlock the wacky Zingo bonus game. Thanks, NinjaVanish
What a great question! You can indeed still use those codes to unlock Wacky Zingoz Extreme in the Arcade and the Tournament Arena. Did you know that you can invite someone to play in the Tournament Arena even if they don't have the game? It's true! If you can't find any of the super cool Wacky Zingoz plush around, you can purchase the game from Ganz eStore, as well.
Hi Fiona! I know from reading your fan mail that Webkinz is sadly not planning to make any more lil'kinz. But what about the lil'kinz that there are already? Are they all retired, or do you still make them? – Inkblot
It's true that Lil' Kinz plush are retired. That means we don't make any new plush, and we don't manufacture any more of the existing lines. The Lil' Kinz that are out in the wild are all that's left. You can sometimes get virtual Lil' Kinz at Ganz eStore, though, especially around springtime.
Hi, Fiona. I've been wondering this for a really long time. I've had tons of ideas for new Webkinz, and I want to send them to Ganz and see if they can make them Webkinz, hopefully plushies, although I know how hard it is for them to do so since they have other people making the plush Webkinz. I've entered Design a Pet contests, looked for Contact Us buttons on Webkinz, and put some of my ideas on the Webkinz Newz forum entitled Make Suggestions. None have seemed to work for me. Is there any other way to tell Ganz my designs? Thanks. – EmilyCuteHeart
Thanks for your question, EmilyCuteHeart! You're doing everything right — those are all the ways to get your ideas to Ganz! It's true that the Plush department has a plan roughly a year in advance of when you see pets, and they don't always act on suggestions, but there's no harm in trying. And, of course, entering the Design-A-Pet contests is the best way to get your vision of a virtual pet made. Just keep trying — you never know when something you suggested might get made!
Want to write to Webkinz?
Send your letters to:
Ganz #04360 Industrial Parkway
Cheektowaga, NY
14227-9903
Have more questions? Ask them below and you might be featured in the next edition of Fan Mail with Fiona!