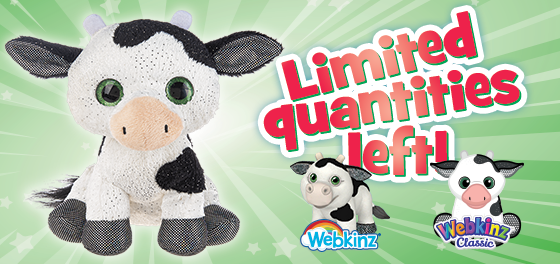 Don't miss your chance to adopt a first edition Webkinz Holstein Cow while supplies last. Each first edition Webkinz plush toy is only available in limited quantities and we've already sold out of the Golden Retriever and the White Unicorn. The Holstein Cow is the next pet to sell out so make sure to purchase yours before there are none left!
Gift A Holstein for The Holidays!
Everyone wants a new pet for the holidays! And, how much fun would it be to receive a brand new Cow for Christmas? A Holstein for Hannukah? A new Bovine for your Boo. Anyway you spin it, it's a terrific gift.
Each Webkinz Plush comes with two adoption codes: One for Webkinz Classic and one for Webkinz Next. That's TWO pets for the price of one! And, with only a small quantity available, each plush pet becomes a special collectible and each digit pet stands out in the game.
Now's your chance! Visit Ganz eStore to purchase your Webkinz Holstein Cow.