Congratulations LadyBeauty! Mandy loved your room and you have won a Room Design Trophy!
Here's what she had to say about your room:
"I was so excited to see that some rooms from Webkinz Next made the finalists this time around!
I just loved this pretty Unicorn's Princess room by LadyBeauty! What I think is so nice is that LadyBeauty has only used a handful of items from the Palace Princess theme, but the way they have arranged them creates such a regal, yet fun feel. Ladybeauty chose a real statement piece, the Fantasy Coach Bed, to place in the center and build the room around. The use of three other beds, the Enchanted Dreams Bed, makes it feel almost like a Unicorn Princess dorm! The great thing about advanced editing in Webkinz Next is that it allows us to place items at an angle. LadyBeaty created another great focal point in the far corner by positioning one bed at an angle and surrounding with it a pair of Pretty Princess Armoires and two Amethyst Geodes. I'd like to imagine that that particular unicorn princess could be the head unicorn at unicorn princess school when all the unicorns head out from their dorm each morning!"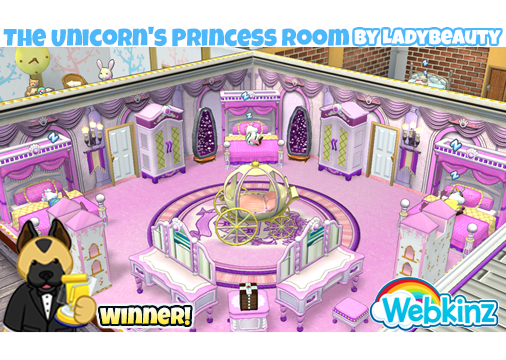 LadyBeauty, please check your inbox for an email that will explain how to get your trophy!