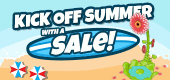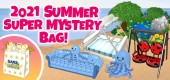 Here's what you may find inside the new 2021 Summer Super Mystery Bag! Read more →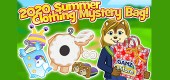 Here's what you may find inside the new 2020 SUMMER Mystery Clothing Bag! Read more →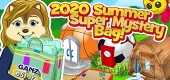 Here's what you may find inside the new 2020 Summer Super Mystery Bag! Read more →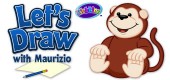 Join Maurizio, Webkinz's Lead Artist, as he sketches a vacation-ready Sheldon! Read more →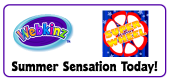 There's no better way to kick off the summer than to visit Webkinz for Summer Sensation! Read more →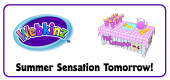 Tomorrow, Saturday June 28th, is the return of Summer Sensation! Read more →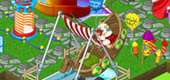 Beat the heat with these cool items for your Pet's room! Read more →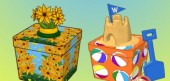 It's the perfect time for Deluxe members to chill with their friends! Because the Deluxe Summer Fun House Party Pack and the Deluxe Beach Party Room Pack are here! Read more →
      Molly is going to have to babysit Millie for a few weeks this summer, and she was trying to figure out some fun games to play with her. This is one of my favorites – beanbag toss!   What you need: Large piece of Bristol Board, markers, scissors, felt, needle and thread, small sandwich bags, dried beans   To make the beanbags, cut out two five-inch felt squares per bag. Sew around three sides of the square (leave one side open). Fill a sandwich bag halfway with dried beans. Seal the sandwich bag. Put the sandwich bag into your felt square. Sew up the last side. Now you've got a beanbag! To make the target, draw circles on the Bristol board, using a marker. You can make one big target, or several smaller ones worth different numbers of points. When you're all ready, stand back and toss that beanbag. If you get it onto the target, keep track of how many points you scored. Whoever has the most points after five throws is the winner!
  PJ Collie here with a fabulous summertime fashion show. Check out these AWESOME styles and tell us who you think is wearing the BEST outfit!     First up, Hailey is wearing a fabulous black dress with pops of neon. Her sunglasses and shoes are bright pink, which works with this vibrant outfit perfectly!   Next, we have Joe. Joe looks super cool in neon green shorts (neon is SO in this season, by the way). His black shirt and shades help to keep the outfit from being TOO bright, and his sandals are a great final touch. Looking good, Joe!     A little summer rain won't dampen the spirits of Elora! She's looking seasonally sensational in this long floral dress! The ruffled sandals are perfect for a garden party, and the hat is a fun accessory!   And for a casual summertime look, we've got Hank. Hank is decked out in a camouflage hat and shirt. His shorts are a dusty brown, and his runners say "I'm ready for a day in the sun!"   If summertime has you thinking pink, you'll LOVE Steph's look! This lovely magenta and orange one piece is super stylish – and … Read more →
    Dear Roberta, Remember how I said my vacation with Dacey was going great? Well, let me just change 'great' to 'horrible.' What happened?  Her BOYFRIEND showed up. Yes, that's right. She has a boyfriend. His name is Trevor and he's ALWAYS around. He and Dacey hold hands and share drinks and they're constantly together. And what about me? I'm spending a lot of time with Dacey's mom (who doesn't really approve of Trevor, by the way). Also, I'm reading a ton of books (there's a library close by). I asked Dacey if she wanted to go shopping and maybe get manicures and guess what she said? "Only if Trevor can come along." You have GOT to be kidding me! I told her to forget about it and returned to the library to see if they had any new magazines in. I don't know how much longer I can take this, Roberta. I might just end up coming home early, movie or no movie. I'm bored and tired of being left on my own. Some summer this is turning out to be. Love, Cowabelle PS – How are things with you?
      Ella here with a summer vacation update! Summertime in Kinzville is a TON of fun – there's so much to do! I decided to walk around town this morning and find out how everyone is spending their summer vacation.   Dr. Quack: I'm having a barbecue next weekend. It's going to be amazing! Grilled veggies, tofu burgers…and ice cream cake for dessert! YUM!   Stoogles:  I am having the best summer! I've got SO much planned. We're having a Googles reunion, I'm going to the beach, my cousins are coming to visit…it's go, go, go for me!   Purr-Cilla: Well, as I mentioned before, I've got quite the summer planned. I'm leaving at the end of this week to head to the shore. Sun, fun and fabulous things to do. It's going to be outstanding.   Nibbles: I'm SO BORED, Ella! I knew everyone was going to be busy, but I never imagined I would have SO much time to myself. I've tried doing a few different hobbies…knitting, sewing, watching the linoleum peel…I just wish my friends would come and visit me!   Ms. Birdy: I'm having a great summer! I love hot weather and I LOVE … Read more →
  You guys will NEVER guess what I started today…swimming lessons! They are SO much fun, I can hardly believe it. Uncle Arte said that since I've been such a good sport about helping out at the Curio Shop (OK, OK, I've complained a FEW times, but whatever), he wanted to give me an extra special treat. He signed me up for swimming lessons. Initially, I was all, "Um, Uncle Arte? I know how to swim. Sort of." But really? I didn't know any of the strokes…and I definitely couldn't swim for very long. The lessons I'm taking are for kids who have some experience and know the basics, but could stand to learn a bit more. And guess what? It's SO much fun. We had races in the pool, we practiced holding our breath underwater, and we even learned the backstroke! I can't wait for next week – by the end of the summer, I'm going to be a swimming expert!
  Dear Roberta, Wow, what a summer! It's only the sixth of July and already I feel like I've been on vacation for, like, EVER! My days have been insanely busy. I know I was pretty disappointed for not winning Kinzville Sings, but I realized something: if I had won, I wouldn't have been able to visit Dacey this summer. And honestly? We are having THE BEST TIME! I actually got a small part in the movie – I have TWELVE lines! I've memorized them all already (of course) and I know I'll do a great job. How are things back in Kinzville? I hope you're not TOO bored. I know you're at craft camp, so I bet you're enjoying that. You HAVE to call me as soon as your brother or sister is born. I hope it's a boy – you don't want to have a sister like Millie! Anyway, I've gotta go – we're about to head out for dinner again. That's another thing: I've been to THE best restaurants! Call me soon and I'll tell you more! Love, Cowabelle