Celebrate spring with fun florals and fresh furniture!
The Flower Collection event is back in Webkinz World! From May 1st – 31st, login to collect Flowers and redeem them for great prizes! You can create a wonderfully flowery room design! And the Weathered Windows are available at Ganz eStore and WShop to make your design even more lovely!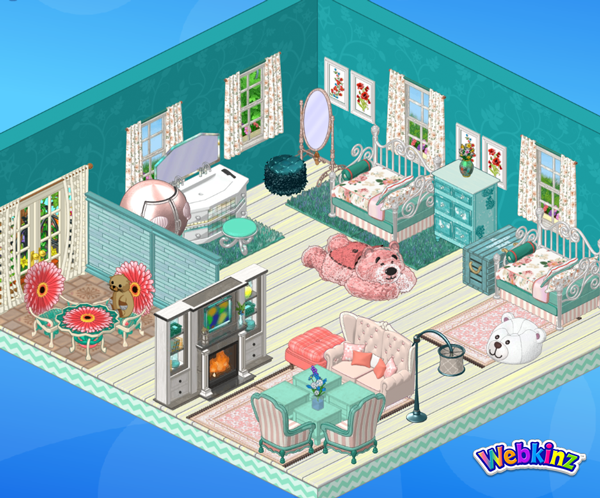 Happy Collecting Everyone!!

Items found in the room above:
Upbeat Chic Flooring
Weathered Window
Curtained Balcony Window
Classic Villa Floor Tile
Gerbera Daisy Chair
Gerbera Daisy Table
Seashell Cottage Divider Wall
Pearl Wardrobe
Lovely Iridescent Vanity
Iridescent Rug
Dark Teal Pouffy Chair
Lavender Flair Mirror
Pressed Flowers
Dreamy Daybed
Tickled Pink Grizzly Bear Bed
Weathered Teal Dresser
Seashell Cottage Chest
Teddy Bear Trampoline
Fun Peach Ottoman
Elegant Blush Carpet
Elegant Blush Sofa
Taupe Floor Lamp
Beach House End Table
Fresh Wildflowers from the Garden
Cheerful Armchair
Fireplace Bookcase
You may find these items and more at eStore!!