If you have an iPhone, iPad or iPod Touch, head on over to iTunes to pick up Where's Wacky for just 99 cents!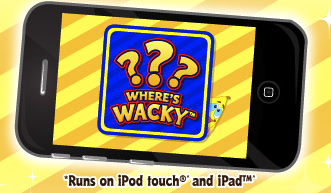 Great news for mobile gamers!  Where's Wacky™ has joined the growing list of great Webkinz™ games available on iPhone, iPod and iPad!  Get ready to challenge yourself with this awesome card-flipping memory game to find matching cards and earn KinzCash™ for your Webkinz World™ account!
Best of all you can earn KinzCash wherever you are! That's right, when you play Where's Wacky you will still earn KinzCash. When you have an internet connection, just enter your User Name and Password and we'll send your KinzCash over to your Webkinz account!
Start enjoying Where's Wacky on the go today!
While you're there, check out Polar Plunge, Smoothie Moves, Cash Cow 2 and Goober's Lab available for download at the Apple App Store!