Happy Thursday! We are so close to Halloween and I am excited. I ran a poll on Twitter and let them decide my spark pairings. I'll be sparking Holly, the Vampire Kitten, with Ginger, my Gingerbread Puppy, and Feathers, my Pixie Tiger. I'll be sparking Buddy, my other Vampire Kitten, with Mittens the Grey Tabby. What do you think I'll get??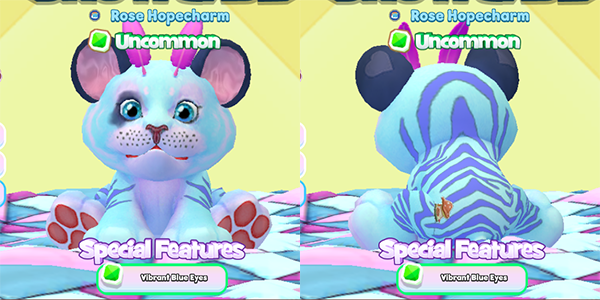 First up this week is this lil rascal! I just love that little eye patch (awesome Holland Lop trait!). This is a particularly beautiful body color, and I love the pairing of the soft pink pig ears and the neon pink feathers.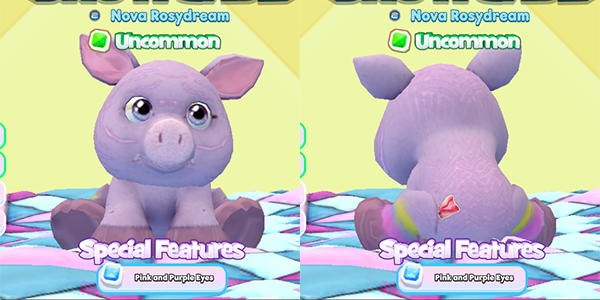 Now this piggie has an understated color scheme and subtle patterns, but the more you look at it, the more you see! The soft purple body color coordinates nicely with the pink and purple eyes. There's a red tulip pet patch from a tulip pony and pixie tiger face stripes, making this a well mixed piggie!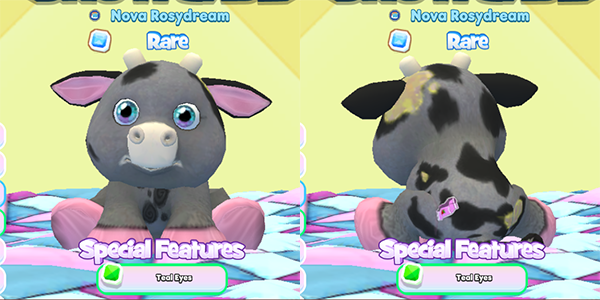 Aww, I love the color combination of this baby cow! I especially love that it has a strawberry milk pet patch, to go with its pink ears and feet. Those teal eyes are dreamy and that grey body color is so cool.




I'm a big fan of the gray and pink vampire kittens! The zebra stripes show off the pink nicely, while the silver is a lovely coordinating eye color. THe winged eye patches give this pet quite the unusual look, and the pixel flair on the arm is a nice burst of color.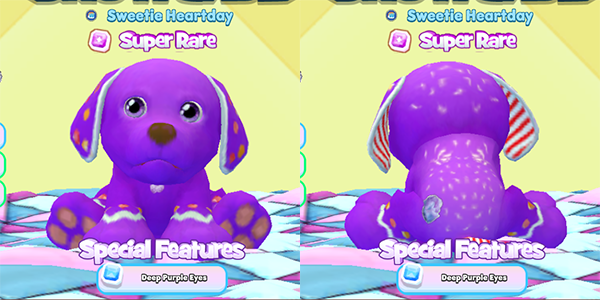 This precious purple pup has a tulip pony pet patch and spring fawn flower petal spots! But my favorite has to be the deep purple eyes, which just makes this the most purple pet ever!




This is another understated pet, with a soft tan body color, simple gold ears and a variety of shaggy textures. On the back you can just make out the tulip pony spots and the tail has been dipped in rainbow. I have a pet similar to this, also with a coookie pet patch! (I think I named them Cookie!)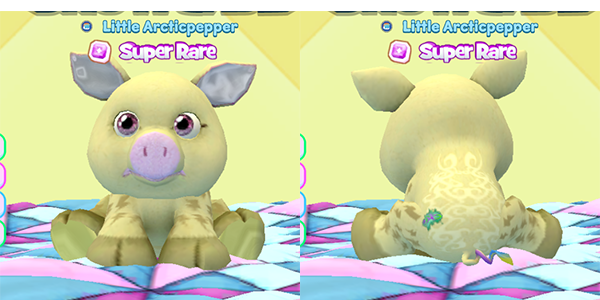 Another subtle piggie! This baby has pink eyes and silver ears from the Pinktastic Lion, but those lightning legs are all giraffe! It's a muted combination, but I love how coordinated it all is.




I can't resist these green sloths — I love them every time I see them! The neat thing about sloths is that the ear fabric shows up on their faces. This one has the silver ear fabric from the Pinktastic Lion, as well, and the cute cotton candy pet patch. The rainbow flair on legs stands out so nicely with this green, and that neon back patch is awesome!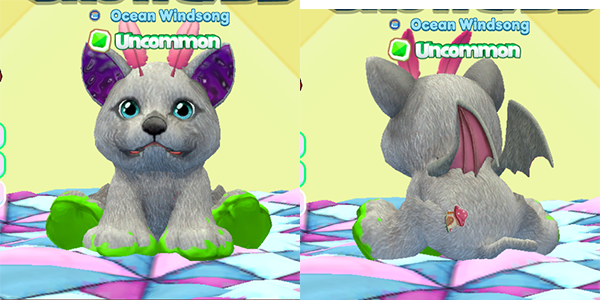 Last but not least is another gray and pink vampire baby! This one has lovely coordinating feathers, the cutest baby blue eyes, bright purple ears and ooey gooey green paws! Such a fun color combination.


That's it for this week — I'm counting down the days until Halloween and my spark party with Dorothy Lou and Mandy. Will you be sparking on Halloween? Let me know in the comments below!


Download Webkinz Next now — available for iOS, MacOS, Android and Windows 10.