Happy Thursday! We're getting that much closer to spring. Are you excited?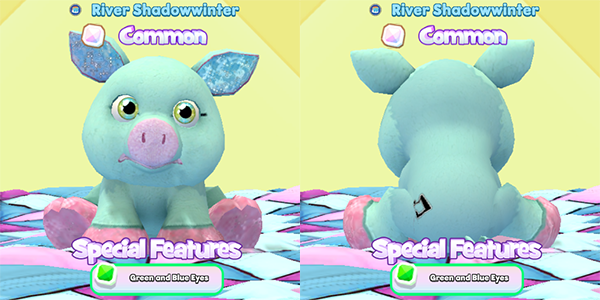 First up is this cutie piggie. Yesterday the Landrace Pig was available for 120 diamonds at the adoption center and there were a TON of piggie babies! This one has the pretty teal color I like so much, though with the husky's back patch to make a bit of it darker than usual. I like the combination of the teal with the blue ears — it goes quite nicely with the green and blue eyes. Usually I like when ears and feet match, but I like the pink nose with the pink feet with this pet.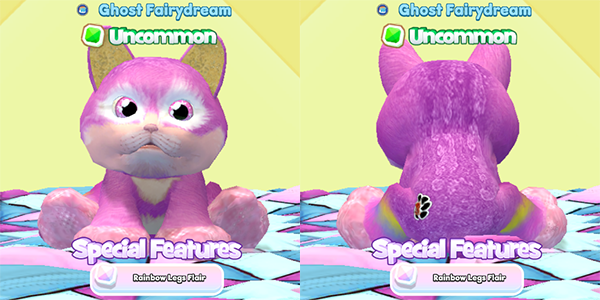 This adorable pink kittie has a frog back pattern — it looks wonderful! And then pink eyes, and pink feet… a beautiful pink pink pink kitty! The rainbow leg flair adds a nice pop of color — and the gold ears are a good contrast to all the pink.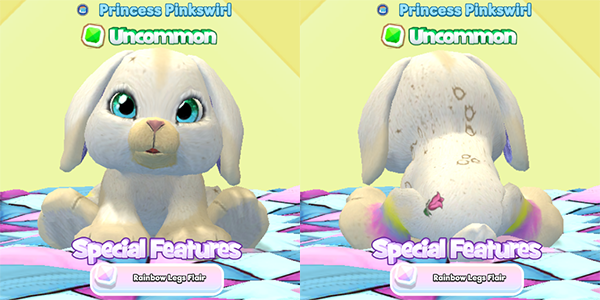 I absolutely love the moon bear starry pattern on other pets and it shows up really well on this tan bunny. It also has the pretty rainbow leg flair, which goes well with the pink tulip pet patch. You can just make out a hint of purply blue inner ear, and the panda's blue eyes on this pet are just beautiful!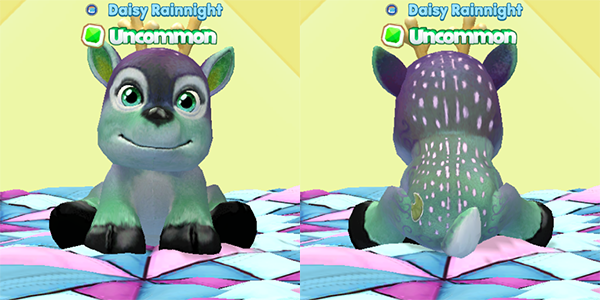 I have one of these purply green spring fawns and I love them so much! This one has a cute green lily pad pet patch and sea green eyes (hello frog!) and really cute green fabric ears. It's all the greens and you know I can't resist those.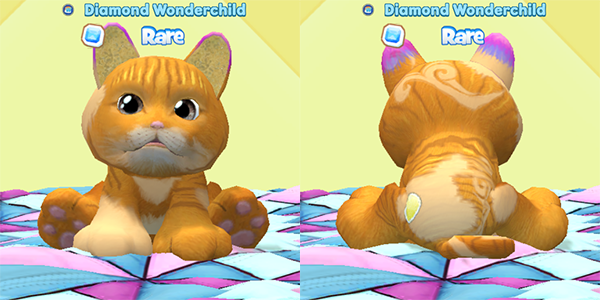 This mostly natural looking tabby (Mandy would love!) has beautiful swirls and the cutest tips of rainbow on its ears. It gets its soft eyes and gumdrop pet patch from a gingerbread puppy. Very pretty!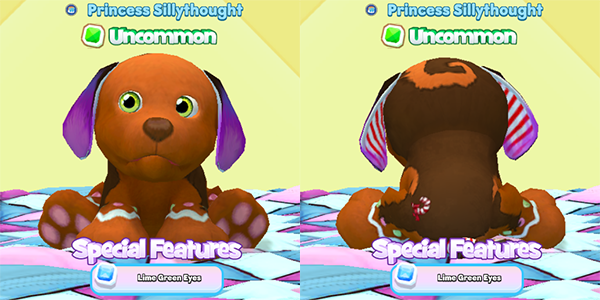 Now this gingerbread puppy has an interesting look courtesy of the husky's back patch! The ears look dipped in rainbow and that candy cane pet patch really pops. I love those lime green eyes — especially with the purple on the ears.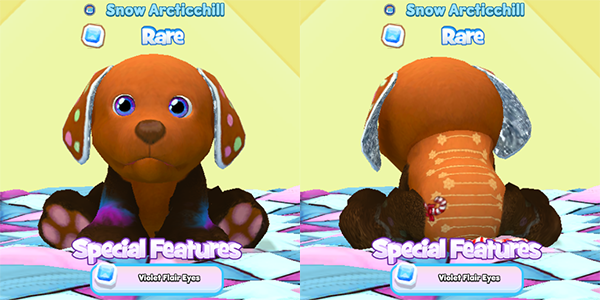 What happens when you get panda patterns on a gingerbread puppy? This puppy looks like it has sleeves on! I love that tinsel back pattern and the silver glittering panda ears add so much sparkle to this pet. The purple and blue eyes on this baby go perfectly with the purple/blue rainbow flair on the legs!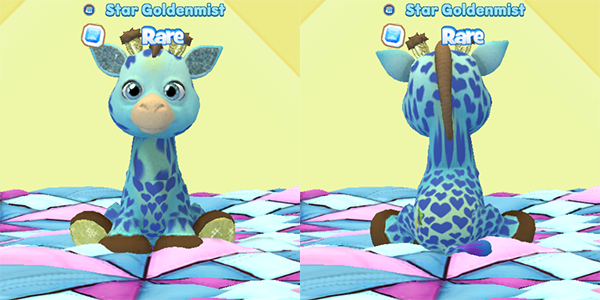 This lovely blue giraffe is covered in hearts! It may not be Valentine's Day anymore, but I'd love to have this baby any time of the year. The soft blue eyes and ears from the chimpanzee coordinate so well on this baby, and the gold ossicones and feet bookend beautifully.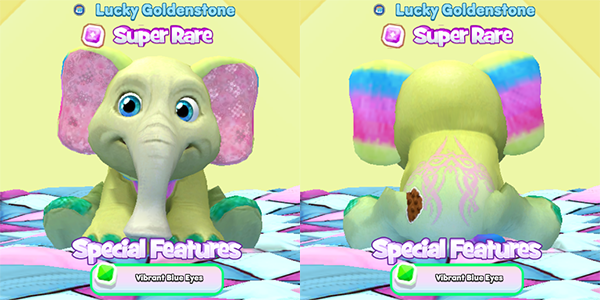 This baby is what happens when you cross the ultra rare Violet Velvet Elephant and the rare Rainbow Retriever! I love the rainbow ears and chest fur on this elephant and that beautiful back pattern. The green toes look lovely with the soft yellow body color, and the pink ears and blue eyes make this a wonderful understated rainbow! And who can resist a cookie pet patch?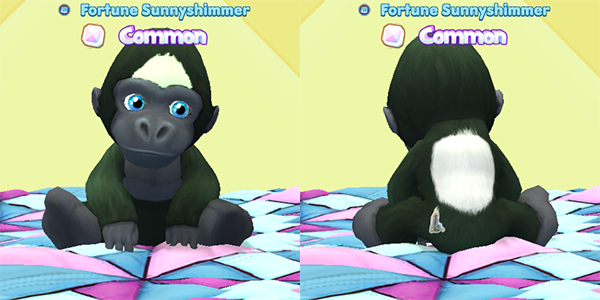 I had to include this gorilla because it's green! It's a very subtle green, but it's very pretty, especially with those blue eyes. I'd say this is a pretty perfect St. Patrick's Day pet!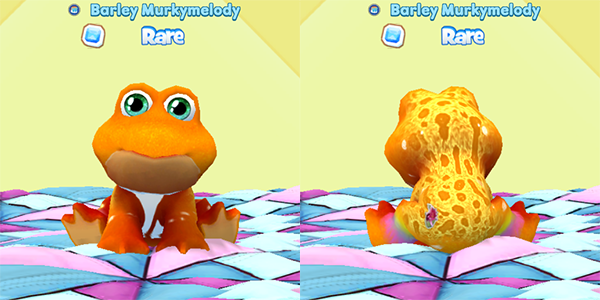 ORANGE! I still don't have my orange froggie, but I will definitely admire everyone else's. This one has a beautifully intense back pattern, which goes so well with the rainbow leg flair. There's a pretty red flower on that lily pad pet patch and that white dew drop chetst pattern adds some drama to the front.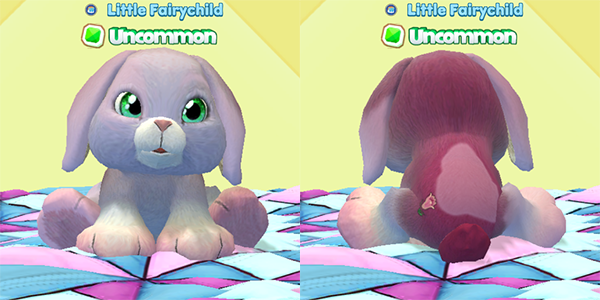 I got one of these color bunnies on Valentine's Day and I just love it so much. The peachy pink tulip pet patch goes so well with it, and the tabby green eyes look so intense. Beautiful bunny!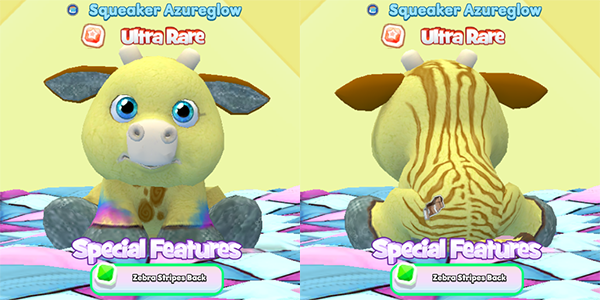 Last but not least, this ultra rare chocolate caramel cow baby has lots of lovely little features, from the zebra stripes and chocolate milk pet patch, to the lovely swirls and beautiful blue eyes and rainbow leg flair. This baby has teal sparkle hooves AND ears, both super rare features — so lucky!


That's it for this week! Did you take advantage of the virtual Landrace Pig yesterday? Have you sparked any piggie babies yet? Let me know in the comments below!
Download Webkinz Next now — available for iOS, MacOS, Android and Windows 10.