Don't you just love the Polar Bear's PSI? Decorate your plushie's room with an Arctic Window just for them with this craft from our archive.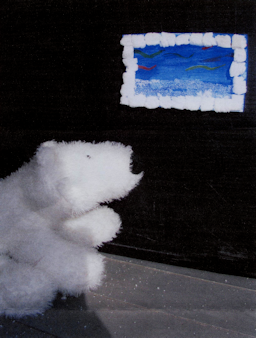 What you need:
1 white 3×5 index card
White packing peanuts
Dark blue paint
Salt
Glue
Other paint colors for the Northern Lights
What you do:
Paint the index card dark blue and let dry.
Put a thin layer of glue on the bottom portion of the card and cover in salt. This will be the snow-covered ground.
Paint the Northern Lights onto the sky.
Break up the packing peanuts and glue them around the edges of the index card.
Hang your Arctic Window with some sticky tac or adhesive tape!
Do you have a great idea for a craft, recipe or party game? We'd love to hear them!