Crafty Kimmy is back with another craft from our archives! Here's another cute costume to try for your Webkinz pets — a bunch of grapes!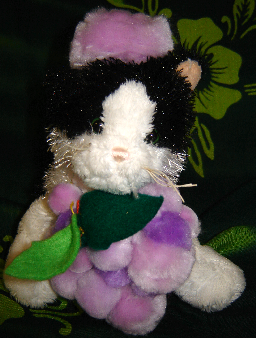 What you need:
15 medium and large purple pom-poms
1 really large purple pom-pom
1 piece of green felt
Needle and thread
A Lil' Kinz
What you do:
Thread the needle.
Starting with a large pom-pom, sew straight through the pom-pom. Sew two pom-poms on top. Sew three pom-poms on top of the two pom-poms.
Sew four pom-poms on top of the three pom-poms.
Sew the final five pom-poms on top of the four pom-poms.
You should have a triangle of purple pom-poms.
To create ties for your costume, pull a piece of thread through the pom-poms at both ends of the top row.
Sew on two green leaves.
To create a hat, sew through the really large pom-pom, leaving enough thread on either side of the pom-pom to be used as a tie.
Dress your Lil' Kinz up for some fun!
BOOO
To make a regular sized Webkinz into a bunch of grapes, just use more pom-poms!
Do you have a great idea for a craft, recipe or party game? We'd love to hear them!