Crafty Critterz is back! We'll be posting recipes, crafts, game ideas and more. Check out this craft from our archive.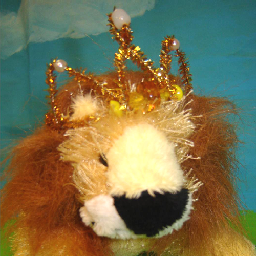 What you need:
Two pipe cleaners (sparkly silver and gold ones work well)
Beads (with holes large enough for the pipe cleaners to fit through)
A Webkinz
What you do:
Make a loop with the pipe cleaner. Make the loop large enough to fit snugly on your Webkinz' head. This is the base of the crown.
Attach one end of another pipe cleaner to the base. Add a bead to this pipe cleaner.
Bend the second pipe cleaner up and down so it looks like a zigzag. Add beads to the zigzag.
Attach the other end of the pipe cleaner to the loop to anchor it.
Fit the crown onto your Webkinz' head. Admire your handiwork!

Try to use sequins, sparkles, and stickers on your crown to make them extra special!
Do you have a great idea for a craft, recipe or party game? We'd love to hear them!