Just in time for Cinco de Mayo tomorrow! Check out this recipe from our archive.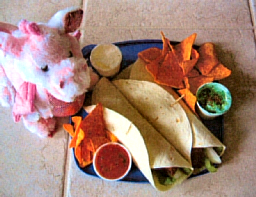 What you need:
1 package of boneless buffalo wings
1 green bell pepper, chopped
1 red bell pepper, chopped
1 medium onion, chopped
1 teaspoon oil
1 package of tortilla shells
Salsa
Guacamole
Sour cream
Nacho cheese flavored tortilla chips
Individual serving cups for condiments
Serving tray for each person
Baking tray
Knife
Frying pan
Spoon
What you do:
Spoon guacamole, salsa and sour cream into small cups. Place nacho cheese tortilla chips and cups of dipping sauces onto the serving tray.
Bake boneless buffalo wings according to package directions. When finished cooking, cut wings into bite size pieces.
Sauté onion and both green and red bell peppers in oil for a few minutes or until heated thoroughly.
Put a tortilla shell on a plate and place about ¼ cup of onion and pepper mixture and ¼ cup of buffalo wing chunks into a tortilla shell. Roll the fajita and enjoy!
Use sauces to customize your tortilla or use as dip for your chips.

 The buffalo wings are also tasty as a nacho topper! Do you have a great idea for a craft, recipe or party game? We'd love to hear them!