It's chilly outside, but that doesn't mean you can't enjoy a nice frosty drink! Check out this recipe from our archive.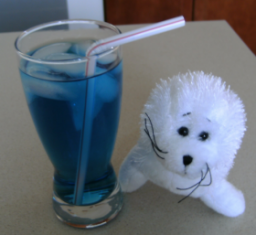 What you need:
A glass
5 ice cubes
2 drops of blue food coloring
Straw
Spoon
Water
What you do:
Place ice cubes into the glass.
Add cold water to cover the ice cubes.
Add two drops of blue food coloring.
Stir with spoon and place straw into the glass.

Add all ingredients to a blender and make this cool and refreshing beverage a slushy!
Do you have a great idea for a craft, recipe or party game? We'd love to hear them!