How about something delicious for spring? You'll love this tasty Spring Slushy from our archive.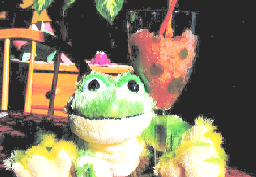 What you need:
Juice
Freezer
Ice-cube tray
Blender
Glass
What you do:
Pour juice into ice-cube trays and freeze over night.
Once juice is frozen, place in blender and pulse till smooth.
Pour into your glass.
A sweet, refreshing drink to enjoy on a hot Spring day!
Do you have a great idea for a craft, recipe or party game? We'd love to hear them!