Got lots of codes, Trading Cards and other Webkinz-related knick-knacks? Make yourself one of these boxes — another craft from our archive.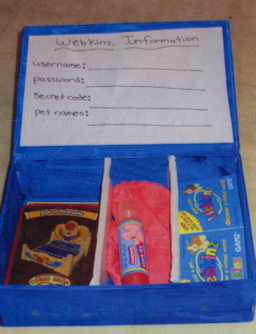 What you need:
A box with a flip-open lid (see picture)
Poster paint (others paints will do)
Markers
White printer paper
Foam or thick cardboard
Scissors
Glue
What you do:
Paint the box with a fun pattern.
Let the box dry overnight.
Write "Webkinz" on the lid.
Measure a white piece of paper to fit the inside of the lid (trim if necessary).
Write "Webkinz Information" at the top of the paper. Below that, write your user name, password, secret code, and pet name(s).
Glue the paper to the inside of the lid.
Make two dividers from the foam or cardboard and fit them snugly in the box. If necessary, trim the foam or cardboard so the lid closes properly.
Put in all your cool Webkinz items like Trading Cards, Secret Codes, Webkinz Clothes, Lip Gloss, Body Spritz, Charms, and much more!

This is a great way to keep your Webkinz items neat and tidy!
Do you have a great idea for a craft, recipe or party game? We'd love to hear them!