Are you enjoying the Wacky Zingoz Celebration? This treat is the perfect way to celebrate Wacky's best pal, Zangoz! This recipe is from our archive.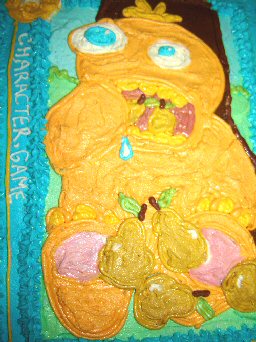 What you need:
Recipe:
1/2 cup butter
1/2 cup milk
2 eggs
1 tsp vanilla
1/3 cup cocoa
1 cup white sugar
3/4 cup flour
2 tsp baking powder
Icing:
1/3 cup butter
2 cups powdered sugar
1 tsp vanilla
1 tbsp corn syrup
1 tbsp milk
Food coloring
What you do:
For the cake: Melt the butter and stir in the cocoa. Leave the mixture to cool. Beat the eggs until fluffy and add the sugar and vanilla and milk. Add the cooled chocolate mixture and beat until it's well combined. Stir the flour and baking powder in gently until just combined, then beat the mixture until it's smooth. Grease an 8×8 inch pan and pour the batter in. Cook at 350 degrees for about 30 minutes (until a toothpick in the center comes out clean).
For the icing: Beat the butter, corn syrup and vanilla together. Gradually add the powdered sugar. Add enough milk to make the icing a good spreadable consistency.
Helpful Hints: You'll need to make a several different colors of icing for this cake – orange for the Zangoz, blue for the background and his eyes, pink for his paws and his mouth, yellow for his teeth and toenails, white for his eyes and highlights on the pears, dark yellow for the pears, brown for the tree and green for the grass. The easiest way to create this scene is to use the green and blue frosting in the background, add the brown tree and then draw the Zangoz on top. Start with an outline of the Zangoz and fill it in. Remember – icing is forgiving. You can always scrape off anything that doesn't look right and start over. Add a decorative border to the cake to make it look totally amazing!

Use your Webkinz Trading Cards as inspiration for cake designs!
Do you have a great idea for a craft, recipe or party game? We'd love to hear them!