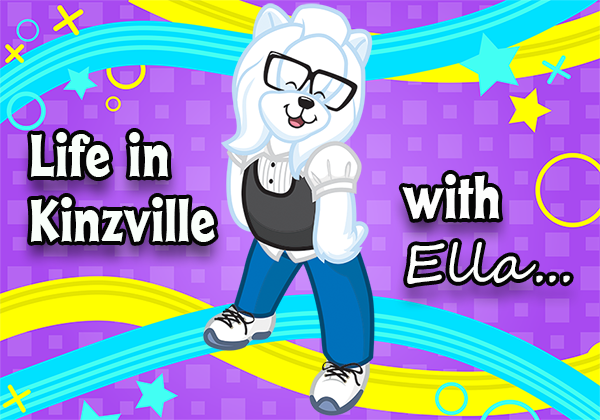 Hi, peeps!
I can't believe Webkinz Day is almost here… I'm so excited. 15 years is a long time, and I think that calls for a big, big, BIG celebration!
But I'm not sure what to do. I mean, the big 1-5 only happens once, right? So I decided to wander around Kinzville and see what other people might have in mind to celebrate our 15th Webkinz Day.
I happened to wander past the Adoption Center and bumped into Ms. Birdy.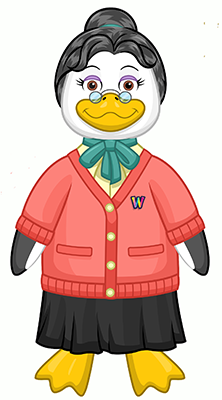 ELLA: Ms. Birdy! So nice to see you.
MS. BIRDY: And you, my dear. Lovely day, isn't it?
ELLA: Yes, it is a perfect spring day. I was hoping to ask you a question about Webkinz Day, if you don't mind.
MS. BIRDY: Go right ahead, Ella.
ELLA: Well, seeing as you've been here from the beginning, I was wondering if you were planning anything special for Webkinz Day.
MS. BIRDY: Oh, my, it has been a wonderful time these past years. It's true that I've been here since day one and it's been a delightful, hectic time with all of the lovely adoptions over the years. To be honest, I'm hoping to have a nice quiet day in… perhaps make a nice meal… and share it with a nice person
ELLA: That sounds great, Ms. Birdy! Do you mind if I ask what's on the menu?
MS. BIRDY: Well, I was thinking of baking some bread. I haven't thought much else beyond that, but definitely some fresh-baked bread. I might sit by my pond… perhaps toss some bread in it… see what visitors I might get.
ELLA: Oh, that sounds quite peaceful. You're right, a celebration doesn't always have to be loud to be meaningful.
MS. BIRDY: Quite right, my dear. I do hope you have a lovely Webkinz Day, as well.
ELLA: Thanks, Ms. Birdy, I will!
I started walking towards the Kinzville Park, hoping to run into one of the 'Kinz, and I wasn't disappointed! I soon ran into Stoogles!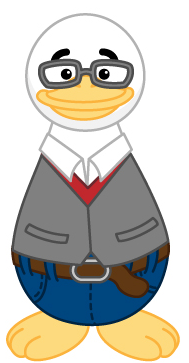 ELLA: So nice to see you, Stoogles!
STOOGLES: Howdy, Ella! What's going on?
ELLA: Well, that's what I'm trying to figure out. I think you know what day is coming up soon.
STOOGLES: Well, of course I do! Webkinz Day is only the best day of the year. I kind of see it as my birthday, too.
ELLA: Well, happy early birthday, Stoogles! What do you have planned for the day?
STOOGLES: I'm definitely going to hang out with the rest of the 'Kinz… especially Salley Cat, my best friend! I love spending time with them even on a regular day, but on special occasions, it's even better.
ELLA: That's true. It's always nice to spend time with friends. Ms. Birdy was going to spend a quiet day at home, but I like the idea of hanging out with friends. Were you meeting them at the park or at someone's house?
STOOGLES: Well, I think we're all going to meet up at Roberta's house first, then head to the Kinzville Park. I'm hoping there will be fireworks.
ELLA: I hope so, too! That sounds amazing. Thanks, Stoogles.
STOOGLES: See ya, Ella!
After I left Stoogles, I took a nice long walk through the Magical Forest. I guess I wasn't really surprised when I ran into Alyssa!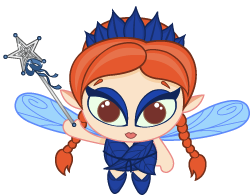 ELLA: Oh, hi, Alyssa!
ALYSSA: It's nice to see you, Ella. It's been a while.
ELLA: Yeah, I'm sorry, Alyssa. I don't make it out to the Magical Forest nearly enough. It's such a beautiful walk, too.
ALYSSA: It is my favorite place to be.
ELLA: I can understand why! Alyssa, I wanted to ask you… do you have any plans for Webkinz Day?
ALYSSA: Oh, Webkinz Day, yes, I definitely have plans… but I'm afraid I can't share them with you.
ELLA: Oh… ok. Why is that?
ALYSSA: Let's just say I have some magic planned. I like to celebrate holidays by doing special things for other people…. without them even knowing it was me.
ELLA: I understand, Alyssa. I hope to see you soon!
ALYSSA: I'm sure you will, Ella.
So, I guess those are my choices…. spend it at home, with maybe a visitor or two, get together with a bunch of friends to celebrate, or spend it doing special things for other people. I'm really not sure what I want to do. What do you suggest? What are you planning to do to celebrate Webkinz Day? I've got so much to think about.
Until next time, it's been real!
XOXO