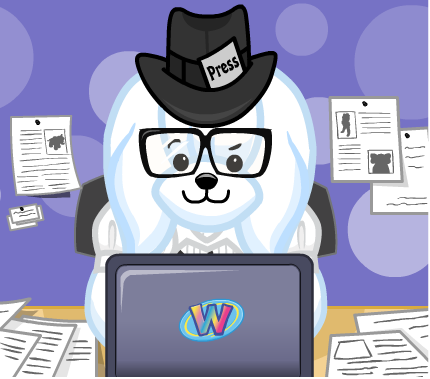 Hi Webkinz Newz readers! It's Ella McWoof, Kinzville's resident blogger, and I'm here again with another EXCLUSIVE interview! Today we are visiting the Kinzville Park to find coolest cow around, Mr. Moo!
Mr. Moo: Did someone scream for Ice Cream?
Ella: Haha! So do you find that being an ice cream vendor in the park is a real cash cow?
Mr. Moo: Very funny. Yes, some people might just remember me from my Cash Cow Arcade games or my candy bars and milk, but lately I've been focusing on my ice cream business.
Ella: And how's that going?
Mr. Moo: It's going great! I have to leave the park and re-stock often.
Ella: Some people have said you're kind of hard to find at the Kinzville Park. Is that why?
Mr. Moo: Yes it is. This is a one-cow business, and I do everything myself. So if you can't find me in the Kinzville Park next to my ice cream cart, just come back later.
Ella: You have some, um… INTERESTING flavors of ice cream for sale.
Mr. Moo: Yes I do! You can find chocolate and vanilla ice cream anywhere. I'm offering some truly one-of-a-kind flavors for the pet that has a taste for adventure!
Ella: Would you say they were "Udderly" delicious?
Mr. Moo: *sigh*
Ella: Sorry– couldn't resist. Thanks for the interview Mr. Moo!
Mr. Moo: You're welcome Ella. Can I interest you in a scoop of Sour Shrimp?
Ella: Ah… sure… maybe HALF a scoop…
Mr. Moo: Coming right up!
That's it for my interview with Mr. Moo! If you were to interview him, what questions would you ask? And who should I interview next? Let me know in the comments below!