It's me, Fiona, back for another round of fan mail! As always, for my past answers, click here! If you miss me, you can always head to KinzPost and send a letter or a package, and I'll deliver it for you! Don't forget, you can add me as a friend by going to KinzChat and adding Fiona Feathers (include the space!).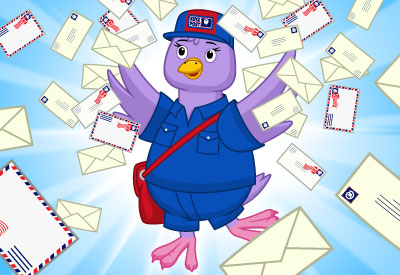 We can put our rooms at Room Design just emailing or exist a share centre gallery in what we can post our rooms for Room Designs? This contest is opened for everybody or just for players from Canada and US? – behe123
Everyone is welcome to submit their rooms for a chance to win a room design trophy, but you must send it to letsbuild@ganz.com — Michael doesn't check the Share Center for entries.
When purchasing an item from the Ganz Estore, it can not be sold back to the Wshop, traded, or sent via Kinz Post. Is there anything at all we can do with an unwanted purchased Estore item?! – ClairebearWebkinz
That's a good question, ClairebearWebkinz! There are a few ways you might end up with an unwanted eStore item on your account (the welcome gifts, some random prizes, purchases you no longer want), but right now the only way to actually remove it from your account is to contact webkinzsupport@ganz.com and let them know which item(s) you'd like removed. Some people like to create storage rooms for their unwanted items, but you may find it can inspire a totally cool room design you might not have done otherwise. It's up to you what you want to do, though.
Hello Fiona, Would it be possible for the powers that be to temporarily turn the Wacky Logout Games back on so some of us who left Webkinz for a while could get the badge? – percaroma

Hi, percaroma! While some of the individual games may come back as activities within Webkinz World, Wacky's Logout Games have been permanently retired and won't be turned back on. It will not be possible for newer players to win that badge. Sorry!
Want to write to Webkinz?
Send your letters to:
Ganz #04360 Industrial Parkway
Cheektowaga, NY
14227-9903
Have more questions? Ask them below and you might be featured in the next edition of Fan Mail with Fiona!