It's me, Fiona, back for another round of fan mail! As always, for my past answers, click here! If you miss me, you can always head to KinzPost and send a letter or a package, and I'll deliver it for you! Don't forget, you can add me as a friend by going to KinzChat and adding Fiona Feathers (include the space!).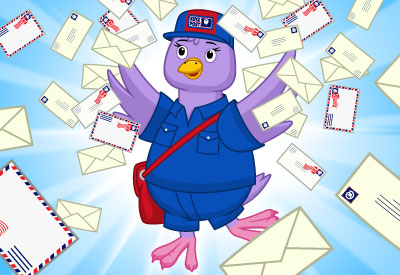 will retired pet's pet codes still work if you haven't used them???? (even if the pet is retired) – AylaC
They sure will, AylaC! Except for a handful of special Adoption Codes for the Webkinz ExtravaGANZa, unused Adoption Codes do not expire. Enjoy your pets!
Dear Fiona, Will the chinchilla ever be available again? I have a pet chinchilla and want a Webkinz to match but never have any luck. - ohemgeeitsbrittany 
Thanks for your question, ohemgeeitsbrittany. Unfortunately, pets that have been officially retired like the Chinchilla will not be available for sale at Ganz eStore. You may find them in special bundles or as promotional reward for a points purchase, but not for individual sale. Sorry!
If I put items in a drawer/chest/etc., will they go away if i trade it? – ngeorgianow
I understand your concern, ngeorgianow. Luckily, if you've got a storage item with stuff in it, it will not let you trade it in the Clubhouse. So make sure to empty your drawers before you head to the Trading Room!
Want to write to Webkinz?
Send your letters to:
Ganz #04360 Industrial Parkway
Cheektowaga, NY
14227-9903
Have more questions? Ask them below and you might be featured in the next edition of Fan Mail with Fiona!