It's me, Fiona, back for another round of fan mail! As always, for my past answers, click here!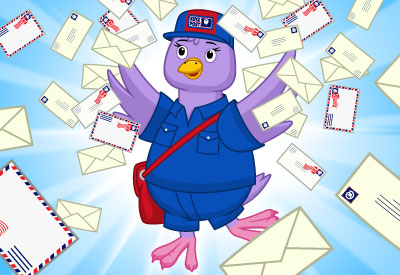 Hey Fiona, when will the invite feature on my kinzchat phone be fixed? I tried it on some of my friends who had the green smiley face and the invite button didn't appear. I will be pleased if Ganz will be able to repair that for sure! - Milkyrose4362 
It's always nice to have a pal come around and visit for a spot, isn't it? Nothing like taking them on a tour or playing a game of Checkers from the comforts of home. The team is definitely hard at work to bring that feature back to Webkinz World! You'll have to stay tuned to Webkinz Newz — announcements will definitely make front page news!
Dear Fiona, Now when new members sign up they get a free pet. What about us older Webkinz members that never got a free pet? Are there any plans to give us older webkinz members a pet? We have stuck around webkinz for years and never got a free pet. Thanks for reading my question! -swimbryan
Thanks for writing! While it's true that new members get a free pet, they are still very limited in what they can do in Webkinz World and must still purchase a Deluxe Membership or adopt a pet to get full access. There have been free pets given to everyone over the years — last year's Decade Dragon, for one! — and you always have the option to create a new account if you like one of the free pets available.
Dear Fiona, Will Quizzy's ever be on mobile? I think that would be so cool! Thanks! – Picia
Who doesn't love Quizzy? So many questions, so many answers… I think Quizzy's Question Corner is my favorite place in all of Webkinz World! Our technical wizards are working on adding all kinds of stuff to the mobile site — one day, there won't be much difference at all between the mobile and browser versions of Webkinz World! I am definitely looking forward to answering my daily trivia questions on the go!
Want to write to Webkinz?
Send your letters to:
Ganz #04360 Industrial Parkway
Cheektowaga, NY
14227-9903
Have more questions? Ask them below and you might be featured in the next edition of Fan Mail with Fiona!