It's me, Fiona, back for another round of fan mail! As always, for my past answers, click here!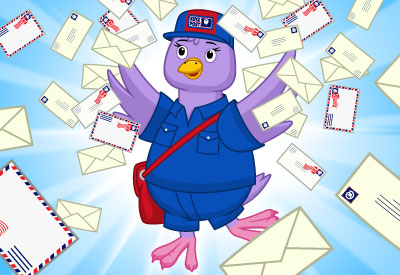 Hi Fiona, Are you in touch with Dr. Quack since his retirement? How is he doing? Besides rare appearances at the Employment Office and the game of Supermodelz; Will he ever visit us (for a special event) in Kinzville again? Thank you so much! – 50ish
Funny you should ask that, 50ishwebbies! In fact, I have heard from Dr. Quack recently. And as much as he enjoys his retirement, he's planning to visit Kinzville very, very soon! Keep your eyes on Webkinz Newz for all the details.
hi fiona, i wish you could leave a message on accounts when we do the peekanezcontest.i have no ide what prize i get and it wont show in ne items .Please can we have a message like we did before – luvnpet
Hi, luvnpet! I can definitely see how frustrating it would be to not know what you've won. I hear that there will be a new system starting in January… you'll be getting a gift box from the Peek-A-Newz instead —  you'll get a random prize when you open the gift box, but it will show you right away what you've won. Doesn't that sound great?
Fiona, why is that Ganz is featuring extra pets each month? Like the Bull Terrier this month. It's taking away from the features of the POTM. POTM still gets you the gift box (if you adopt the pet during the month), but there are way less daily activities. Right now, the Bull Terrier has a daily bonus event, but I've only seen one (on Sunday) for the Black Panther. To me, it kind of devalues the POTM. – Cherrycheesecake
Thank you for your question, Cherrycheesecake. While it may seem that the Pet of the Month pet has fewer events, their schedule hasn't actually changed. They get at least one event each weekday and at least two each day on the weekend. And, as you mentioned, adopting the Pet of the Month during its featured month gets you a Pet of the Month loot bag, which was recently updated to let you pick your own prize. Other pets have been periodically featured… sometimes for a few days (like the Berry Cheeky Monkey during Berry Festival), or for an entire month (like the Misty Koala and Bull Terrier). Not every month will have additional featured pets, and they will never take away the events already scheduled for the current Pet of the Month — they are meant to be an added bonus to celebrate certain pets.
Want to write to Webkinz?
Send your letters to:
Ganz #04360 Industrial Parkway
Cheektowaga, NY
14227-9903
Have more questions? Ask them below and you might be featured in the next edition of Fan Mail with Fiona!