It's me, Fiona, back for another round of fan mail! As always, for my past answers, click here! If you miss me, you can always head to KinzPost and send a letter or a package, and I'll deliver it for you!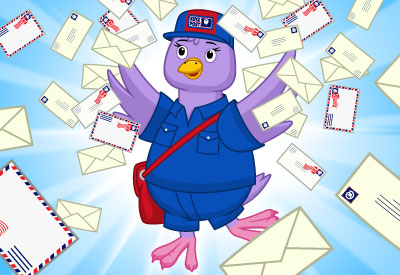 Dear Fiona, The new KinzPost upgrade is really cool! I like how easier it is to use only one screen to send messages, gifts and postcards. But, my real question is: Can we add you as a friend in Webkinz World? I've seen the ability to add Daisy Doe, Mr. Moo and Sophie Stockwell as friends, but I think you would be a nice "host friend" as well. As Kinzville's courier, you have been delivering our mail for a while, but wouldn't you like to receive some from us too? Thanks–gameguy411
Delivering mail to myself… at least I wouldn't have to go far! I'll see if I can whisper into a few ears and see what can be done… I wouldn't mind getting to read some of the mail I deliver for a change!
Dear Fiona, with more browsers dropping support for Shockwave, what is being done to update? Last time when they dropped Unity you dropped the hamsters' world, are we looking at the end of Webkinz? TheMamaDragon
Thank you for your question, TheMamaDragon. Rest assured that Webkinz World isn't going anywhere and there is a plan in place. For now, browsers are simply turning off the Flash plug-in, but you can still turn them on and run Webkinz World. Have fun playing!
Hi Fiona, It's just I named a pet something I didn't want. Can I change the name anyway at all? And um do you know if I can run for mayor of Webkinz? – jillton
What a great question, jillton! I hate to disappoint you, but only full-time residents of Kinzville can run for mayor. But if you have ideas for running Kinzville, you're always welcome to share them… who knows, Mayor Quack may even take your suggestion! As for renaming pets… if you've picked an inappropriate name, you can send an email to webkinzsupport@ganz.com and ask them to change it. If you simply do not like the name, they are unlikely to change it. Please be very careful when you adopt your pets and make sure you really love the names you pick.
Want to write to Webkinz?
Send your letters to:
Ganz #04360 Industrial Parkway
Cheektowaga, NY
14227-9903
Have more questions? Ask them below and you might be featured in the next edition of Fan Mail with Fiona!