It's me, Fiona, back for another round of fan mail! As always, for my past answers, click here! If you miss me, you can always head to KinzPost and send a letter or a package, and I'll deliver it for you!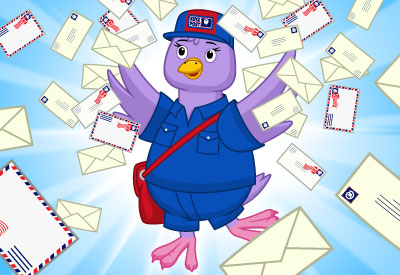 Hi Fiona, could we please have Dr. Quack as a NPC that we can add to our friends list? And – will there be a bunch of new full member (not deluxe) quests soon? I'm almost out of quests. We could use some easy, medium and difficult/long ones. A while back we had % off food items – is that coming back? I miss it – it helped me get ingredients for recipes. And are there new recipes and ingredients coming soon? Thanks! :D – Sugarcookie9
Lots of great questions, Sugarcookie9! You will be able to add Dr. Quack to your friends list very soon — stay tuned to Webkinz Newz for more details about that and Dr. Quack's campaign promise… you'll have some new recipes soon! There aren't any immediate plans to add quests to Adventure Park, but it is possible that new things will be added once Adventure Park is added to the mobile app.  I'll put in a good word about those ingredient sales — with any luck, you'll be seeing them again in the future.
Dear Fiona, When will the reading room return? I enjoyed reading and re-reading all the stories that were featured, and really miss it! – kakenta
Thanks for writing, Kakenta! The Clubhouse rooms have been switching up a bit, but I'm sure the Reading Room will be back in time for the Leprechaun Chase in March. (Did you know that if you wait long enough, he'll appear in the Clubhouse room you're waiting in? Be sure to keep your sound on so you can hear when he arrives!)
Where are our badges being shown? Thank you. ♥♥♥foxpaws♥♥♥
Hi, foxpaws! You can find your badges by clicking on the Options button at the top of the screen (little gear with the question mark) and going to My Profile. If you edit your profile, you can cycle through the available badges that you've earned, and pick the one you want to display. Once the new achievements section is launched, it will be much easier to see all of your badges at once.
Want to write to Webkinz?
Send your letters to:
Ganz #04360 Industrial Parkway
Cheektowaga, NY
14227-9903
Have more questions? Ask them below and you might be featured in the next edition of Fan Mail with Fiona!