It's me, Fiona, back for another round of fan mail! As always, for my past answers, click here! If you miss me, you can always head to KinzPost and send a letter or a package, and I'll deliver it for you!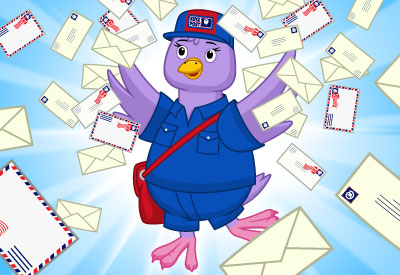 Dear Fiona, How do i know when my silver membership expires? By silver i mean the membership you get when you adopt a pet.-Bubbles3231
Hi, Bubbles3231! If you want to know when your current membership expires (whether that's a Full member or a Deluxe member), just click on the My Pets "paw" button in your dock. At the top left, it will tell you the date your membership expires. Hope that helps!
Where can I find the recipes for the apples harvested from trees we won this summer? Thanks – itmustbenice
Those recipes sure are yummy! You can find them here: Farm Fresh Apple Recipes. In future, you can always click on Newz Blog and then search using keywords — you can find all kinds of useful information in our archives!
Hi Fiona, When I play Bingoz it shows that use can use Bingoz coupons for an extra roll. Where so we got those? – Duckcall
Great question, Duckcall! There are coupons that you can get for Wacky Bingoz. They used to be given out through Feature Codes from Trading Cards and sometimes on the Today's Activities page. Keep your eyes open, since you just might see them again soon!
Want to write to Webkinz?
Send your letters to:
Ganz #04360 Industrial Parkway
Cheektowaga, NY
14227-9903
Have more questions? Ask them below and you might be featured in the next edition of Fan Mail with Fiona!