It's me, Fiona, back for another round of fan mail! As always, for my past answers, click here! If you miss me, you can always head to KinzPost and send a letter or a package, and I'll deliver it for you!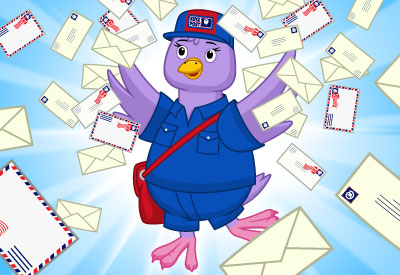 How do I get a video in fan videos? – 19952005
Thanks for your question, 19952005! The Wonders of Webkinz World video playlist is curated by staffmembers. Your best bet to get featured is to send a link to your video to KinzTube@ganz.com — it will be reviewed and may get added to the list! Staffmembers also search YouTube for cool Webkinz videos, so be sure to put "Webkinz" in your title if you're hoping to get noticed.
Hi, Fiona–I'm excited about all the fun stuff going on in WW this spring! While I'm looking forward to the events and the new Party room theme, I'm wondering if items will be retired from the Curio Shop to make room for the three themes that will be leaving the W-Shop. I'm still trying to collect some of those items; and I'm worried that I won't have a chance to find them after the new room theme launches. I've been saving my KinzCash for so long trying to find some of them… – ImaPepper
Don't worry, ImaPepper — nothing is being retired from the Curio Shop at this time. You'll still have lots of opportunities to collect some of the older themes and items that were previously retired to the Curio Shop.
Hi Fiona, I was recently doing daily quests (the short ones) in the Adventure Park and was sent to 2 rooms to find 2 items. I found one item in one room and completely cleared the other room but no item, I went back to the first room and cleared it as well and no item. There is no other rooms to go to and I can't finish my quest so I can't start a new one. What do I do? – qeynos
Don't worry, qeynos, you're not stuck! Just send an email to webkinzsupport@ganz.com and explain your issue and they can reset your dig sites so you can search for the other piece.
Want to write to Webkinz?
Send your letters to:
Ganz #04360 Industrial Parkway
Cheektowaga, NY
14227-9903
Have more questions? Ask them below and you might be featured in the next edition of Fan Mail with Fiona!