It's me, Fiona, back for another round of fan mail! As always, for my past answers, click here! If you miss me, you can always head to KinzPost and send a letter or a package, and I'll deliver it for you! Don't forget, you can add me as a friend by going to KinzChat and adding Fiona Feathers (include the space!).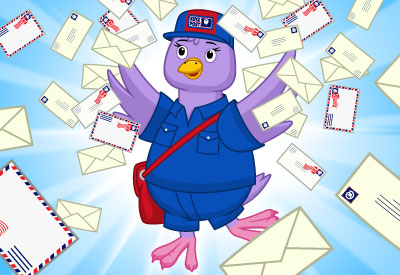 Hi Fiona, I need help with my moonberry packing stations in my rooms they don't really do anything…I bought 3 and sold 1 I feel like I wasted my money on them… Thanks for any help… kat6401
Thanks for your question, kat6401. The Moonberry Marmalade Machine is a decorative item only. They've been given away as prizes and used to be available as a buildable item at the W Shop.
Hey Fiona! Could you add the selling feature to the wshop on mobile? I have a ton of things I would like to sell. Thanks! :) – greenmagic77
You and me both, greenmagic77! Rest assured, that feature will be coming eventually. In the meantime, you can log in to www.webkinz.com to sell any unwanted items.
Hi Fiona! So for the past year or so I've noticed that if you go into your pet's information page any time after adoption, their birthday appears as the date they were adopted, but you still get KinzPost on their birthday originally shown when you adopted them. Can you ask the developers why this is and if they can fix it? Thank you so much! -circusbear9
Hi, circusbear9! Our technical wizards are definitely aware of the issue and are working on a fix. With any luck, we should have birthdays sorted very soon!
Want to write to Webkinz?
Send your letters to:
Ganz #04360 Industrial Parkway
Cheektowaga, NY
14227-9903
Have more questions? Ask them below and you might be featured in the next edition of Fan Mail with Fiona!