It's me, Fiona, back for another round of fan mail! As always, for my past answers, click here! If you miss me, you can always head to KinzPost and send a letter or a package, and I'll deliver it for you! Don't forget, you can add me as a friend by going to KinzChat and adding Fiona Feathers (include the space!).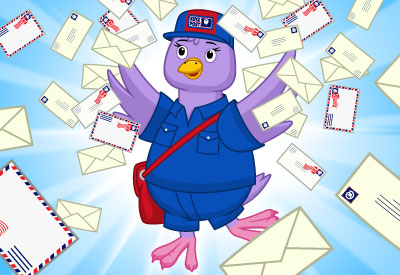 Dear Fiona, How much times do we have to go to school until we get the subject prize? And also, do we get to choose them? If not, do we get all of them? – orbies5

Thanks for your question, orbies5! To get the special prizes, you must complete all 10 grade levels of each subject. Then you will receive a special chooser box, which will let you pick the prize that you want. To get more prizes, more of your pets will have to finish that subject. Hope that helps!
I've always put 'ad on' on webkinznewzganzworld/webkinz website but since June starts, I start having trouble with the floating prices activities, like: couldn't see the mayor in kinzville park + others (and I have even checked to make sure it's on the whitelist). Please help. – dinkers10
Hi, dinkers10! Webkinz World sometimes uses different URLs for their servers, so it's possible that if you have www.webkinz.com on your whitelist, it wouldn't show things properly if you were connected to www3.webkinz.com — the best way to avoid this is to make sure you have *.webkinz.com on your white list — that will ensure that all Webkinz servers will be whitelisted.
COULD SOMEONE ANSWER THE QUESTION WHEN WAS THE SECRET GOO-GOO BERRY FESTIVAL & WHEN DO THE REST OF US GET ONE? THX, k. – kaye10
No need to shout, kaye10, I can hear you :) There is no secret Goo-Goo Berry Festival. The Berry Fest starts on June 19. If you're hearing of people that are winning prizes early, it's because they had saved their Goo-Goo Berries and Polarberries from previous years. Don't worry, there will be lots of ways to collect berries coming up!
Want to write to Webkinz?
Send your letters to:
Ganz #04360 Industrial Parkway
Cheektowaga, NY
14227-9903
Have more questions? Ask them below and you might be featured in the next edition of Fan Mail with Fiona!