It's me, Fiona, back for another round of fan mail! As always, for my past answers, click here! If you miss me, you can always head to KinzPost and send a letter or a package, and I'll deliver it for you! Don't forget, you can add me as a friend by going to KinzChat and adding Fiona Feathers (include the space!).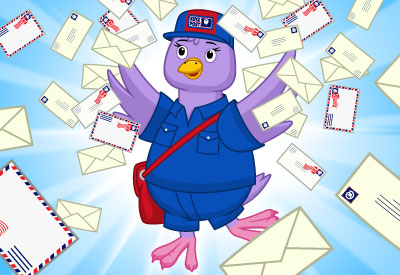 Fiona, I'm kinda curious. Are TVs going to start having shows again (and laptops too, for that matter)? They've not been working for a while. -Thnks! – ngeorgianow
I sure do miss the Monkey & Monkey show! For sure, TVs will work again — there are some very exciting plans in the works. As for laptops, what were you hoping to see? There aren't any current plans to make them more than decorative, but we'd love to hear your ideas!
Dear Fiona, Why is my bingo card always the same numbers and the numbers are all in order? Is everyone's like this? – polkapandaprincess
Thanks for your question, polkapandaprincess. Unfortunately, yes, everyone's Wacky Bingoz card is doing that right now. We hope to eventually fix it so you get random numbers each time you get a new card, but there's no timeline for that yet.
Dear Fiona, what is the best way to get suggestions out to the Webkinz company, and get a response? – griffoned
Good question, griffoned! While you're not likely to get a direct response to most of your suggestions, posting in the comments here, commenting in the Suggestions section of the Forum, commenting on social media, and sending your questions and comments to podkinz@ganz.com are all great ways to get your thoughts, ideas and questions to Ganz.
Want to write to Webkinz?
Send your letters to:
Ganz #04360 Industrial Parkway
Cheektowaga, NY
14227-9903
Have more questions? Ask them below and you might be featured in the next edition of Fan Mail with Fiona!