It's me, Fiona, back for another round of fan mail! As always, for my past answers, click here! If you miss me, you can always head to KinzPost and send a letter or a package, and I'll deliver it for you! Don't forget, you can add me as a friend by going to KinzChat and adding Fiona Feathers (include the space!).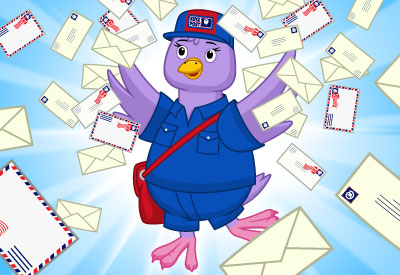 Fiona, I have my wall set up & ready for my rocks. Is there a floor available to finish the room and make it look awesome? – Gramkinz
Great question, Gramkinz! Michael Webkinz is probably the expert on this one, but I've seen some lovely rooms that use a basic green (or blue!) paint, and cover most of it with the Marshmallow Collection prizes from this year and last year. But let's open it up to our readers: what flooring do you like to use with the Rocky prizes?
Hi, Fiona–how's your summer going? Hope you're staying cool. I've been decorating some rooms in my pets' house, and it got me wondering: is there a limit to the number of rooms we can build? If there is, how many can we build? I like to make new rooms, but I don't like the idea of having to "undecorate" one so I can decorate a new one. Thanks for answering our questions–I think you're cool, regardless of the weather ;-) – ImaPepper
Thanks for your concern, ImaPepper! I always make sure I stay hydrated, and I know where to find the best shady spots in Kinzville. As for building your house, there is no limit to the number of rooms you can buy, as long as you're a Full or a Deluxe member! While it's true that Free members are limited to 2 rooms, if your Full or Deluxe membership expires, you can still keep any of the rooms you've already made — you just wouldn't be able to make more until you renewed your account.
Hi Fiona! For people who love Webkinz but can't afford G points, (like me!) it would be nice if there could be a way to EARN G points! Hopefully, this can be put up for consideration? :) – W5kinz
Thanks for writing, W5kinz! Did you know that there IS a way you can earn free eStore points right now? If you share your Helping Paws code and get your friends to join Webkinz World, you could earn free eStore points each week, as well as get weekly gift boxes. The more friends that sign up with your Helping Paws code and play regularly, the more rewards you earn. Hope that helps!
Want to write to Webkinz?
Send your letters to:
Ganz #04360 Industrial Parkway
Cheektowaga, NY
14227-9903
Have more questions? Ask them below and you might be featured in the next edition of Fan Mail with Fiona!