It's me, Fiona, back for another round of fan mail! As always, for my past answers, click here! If you miss me, you can always head to KinzPost and send a letter or a package, and I'll deliver it for you! Don't forget, you can add me as a friend by going to KinzChat and adding Fiona Feathers (include the space!).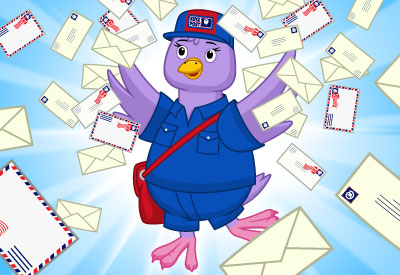 I do have a question as to how they random choose pics of rooms in the room designs are is it done in the room designs I have sent in so many and none drawn to show just curious. I just stopped sending.. cmsrockz
Thanks for your question, cmsrockz! I checked in with Michael Webkinz, and the room designs that he features aren't random at all — he picks them! But he wanted to let everyone know that he doesn't go through the ShareCenter — you'll have to send all of your room designs to letsbuild@ganz.com if you want a chance to be featured.
I would like to know why the Pet of the month is always a new pet. I have 14 accounts that i take care of with over 700 pets, been a member since 2009 and in the beginning some of the pets i have were the pet of the month, but for the past year they are always the new pets. Hope you can answer the issue, Thank You – hockeyamma
Hi, hockeyamma! The Pet of the Month is generally going to be a pet that we still have available for sale — otherwise, there's not much hope for new players to get one to play with, too! We just don't have many of the very old pets left in stock, so they're not likely to show up as the Pet of the Month any time soon.
Hi Fiona! Is there a way to start the webkinz charms over again once you have collected them all? – supermanandbatman4
That would be fun, wouldn't it! I will be sure to pass that suggestion along — but unfortunately right now there's no way to start your collection over.
Want to write to Webkinz?
Send your letters to:
Ganz #04360 Industrial Parkway
Cheektowaga, NY
14227-9903
Have more questions? Ask them below and you might be featured in the next edition of Fan Mail with Fiona!