It's me, Fiona, back for another round of fan mail! As always, for my past answers, click here! If you miss me, you can always head to KinzPost and send a letter or a package, and I'll deliver it for you! Don't forget, you can add me as a friend by going to KinzChat and adding Fiona Feathers (include the space!).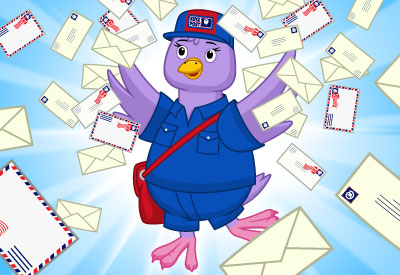 Hi Fiona! I have a question. Are the seeds that you buy with Estore points tradable? Thanks for answering our questions! ~bubbashuka
Thanks for your question, bubbashuka! Generally, anything you buy directly from Ganz eStore is not sellable/tradeable… with some exceptions, of course. The best thing you can do is take a look at the description for the item — it will tell you if it's sellable or tradeable. Most seeds are not — but the food they produce are!
Dear Fiona, will there ever be a series 5 of trading cards? I know things such as signatures and lil kinz are retired, but I hope someday more trading cards will be made. I don't know if they're officially retired or not. I love trading cards. It would be great to see a new series. I would buy so many packs if there was ever a series 5. -itswebkinztime
I absolutely loved the Citizens of Kinzville prizes and would hope that Series 5 would feature prizes involving little ol' me! But, as far as I know, there aren't any plans to do another series of trading cards. That doesn't mean it'll never happen, but it's not very likely.
Hi Fiona, I have run into a problem. I tried to adopt a new pet and the first code got accepted but when I tried to replicate the letters in the box with the lines in it, it kept saying it was an invalid code. I tried several different codes and I am sure I did them all right but then it said I tried too many times and I was getting moved out of the Adoption Center : ( Please help I am not sure what I did wrong. – qeynos
That must have been pretty distressing, qeynos. I hope you got in touch with our technical wizards by contacting webkinzsupport@ganz.com — they'd be able to take a look at your Adoption Code and make sure there's nothing wrong. Hope you got it sorted out!
Want to write to Webkinz?
Send your letters to:
Ganz #04360 Industrial Parkway
Cheektowaga, NY
14227-9903
Have more questions? Ask them below and you might be featured in the next edition of Fan Mail with Fiona!