It's me, Fiona, back for another round of fan mail! As always, for my past answers, click here! If you miss me, you can always head to KinzPost and send a letter or a package, and I'll deliver it for you! Don't forget, you can add me as a friend by going to KinzChat and adding Fiona Feathers (include the space!).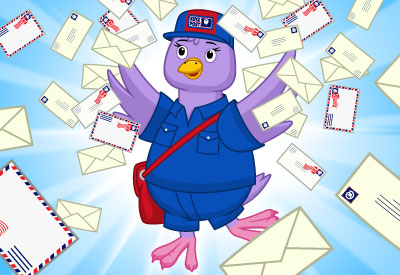 Dear Fiona, I was just wondering, what happened to Lil' Kinz? Will any new ones be released in the future? ~peachbeach
Hi, peachbeach! The Lil' Kinz line of plush was discontinued. Some of the older plush might still pop up in some stores, though, but if you're looking for new ones… the only ones you'll find are virtual. Ganz eStore regularly releases 3 Lil' spring pets each year!
Hi Fiona! I was wondering if there is a way to just get a code for a Webkinz. I have a toucan Webkinz that would like to join my online Webkinz, but he never came with a code. – foxtails2000
Your best bet is to keep an eye on Ganz eStore to see if your pet is available as a code. The stock there rotates on a regular basis, so you never know! Hope that helps, foxtails2000!
So Fiona, having a good day? (This was a random question) – twinners1
Thanks for asking, twinners1! My day is just dandy. How about you?
Dear Fiona, Last month I completed the last non-deluxe challenge that was available to play on Webkinz, which was the Moving Day Challenge. Now I haven't gotten any more non-deluxe challenges since then, so it's given me less to do on Webkinz. Besides the Dex Dangerous Trophy Challenge that's coming up this month, will there be new additional non-deluxe challenges coming up really soon? Thanks if you answer my letter! -DogsCats101
Congratulations on finishing so many challenges! Right now, the trophy challenges and various smaller event challenges will be added to Webkinz World — there aren't any current plans to add extended, permanent challenges. But you never know what the future might hold!
Want to write to Webkinz?
Send your letters to:
Ganz #04360 Industrial Parkway
Cheektowaga, NY
14227-9903
Have more questions? Ask them below and you might be featured in the next edition of Fan Mail with Fiona!