It's me, Fiona, back for another round of fan mail! As always, for my past answers, click here! If you miss me, you can always head to KinzPost and send a letter or a package, and I'll deliver it for you! Don't forget, you can add me as a friend by going to KinzChat and adding Fiona Feathers (include the space!).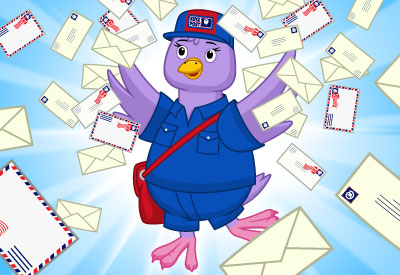 Hi Fiona! After a few years of stepping away from Webkinz, I've come back to continue adding to my Webkinz World family, and also my plush collection! Problem is, I can't seem to find any stores around me that still sell Webkinz. Many of the stores I used to buy them at have either closed or stopped carrying them. Bummer! Aside from online shopping, is there any place I can go that might carry Webkinz plush pets? ~ EverEverOn
Welcome back, EverEverOn! Your best bet is still your local Hallmark (you may even want to let them know that you're looking for Webkinz pets). Some people find them in Five Below, and you may even find a stash in your local dollar store. As for online shopping, you can also find the newest plush available at Ganz eStore, and occasionally other plush pets are available, as well. Good luck!
Dear Fiona, is there any other way to get the deluxe pink Pouffy coat in the kinzstyle outlet? I thought about trading for it but I can't say Pouffy so I'm not sure how to tell people that's what I'm looking for. I can't buy it because I'm not deluxe. Any other way to get it? Any ideas how to tell people that's what I'm looking for?? - Karahjoy6
The Trading Room can be tricky, can't it! You might have some luck asking for the "New Pink Deluxe Coat" — otherwise, you can also leave a request in our Trading Forum. Hope that helps!
Dear Fiona, I LOVE seeds! Gardening is such a fun part of Webkinz. Will there be any new pets with seeds as their PSI? It has been a long time since one was released with that type of PSI. Also, will there be any new events or challenges where we can earn specialty seeds like there were in the past? - luv2tzus
I love seeds, too, luv2tzus! I've passed the request on, so with any luck we'll see some new seeds popping up. I don't know about you, but I'm hoping that the Apple Tree seeds will make another appearance this fall!
Want to write to Webkinz?
Send your letters to:
Ganz #04360 Industrial Parkway
Cheektowaga, NY
14227-9903
Have more questions? Ask them below and you might be featured in the next edition of Fan Mail with Fiona!