It's me, Fiona, back for another round of fan mail! As always, for my past answers, click here! If you miss me, you can always head to KinzPost and send a letter or a package, and I'll deliver it for you! Don't forget, you can add me as a friend by going to KinzChat and adding Fiona Feathers (include the space!).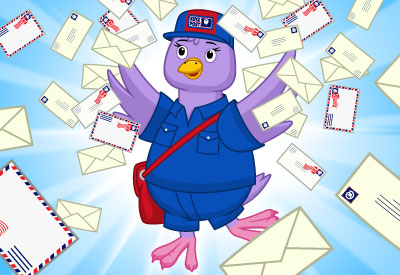 Since the Shiba Inu won to be July's POTM, does that mean it will be up for sale in the Estore as a plush? Because I can't find it anywhere! – peachbeach
Thanks for your question, peachbeach! If Ganz eStore had any Shiba Inu plush available, it would have been up on the website already. There may still be some out in the wild, but Ganz eStore will only be selling a virtual version. Good luck on your search!
Hi Fiona Feathers; I have more of a request. Back in 2008 Ganz released a pastel trio of Senor Jellybean plush for Easter. They were so adorable in blue, pink and purple. They were a lil kinz Chuihuahua TYPE of plush at 7.5 inches tall. They never were released as a Webkinz, but they were perfectly suited to the Trio of Lil Kinz that Ganz estore releases every spring for Spring Celebration. I would dearly love this trio for my very own. I was never able to find the plush other than the Webkinz Chihuahua in my hometown stores and I wish that I had ventured to purchase them online. These were the cutest plushies I ever saw! Can I get you to put the 'bug in Ganz' ear' to make this virtual trio for next Spring? – LuckyFinnigan
I will definitely pass it on, LuckyFinnigan! That's certainly a cute-sounding trio.
Hi Fiona! One of my friends bought one pet with 10 000 Deluxe Points and he got just the pet. He asked Ganz what can he do and they don't respond – behe123
Hi, behe123! Let me see if I understand the question… are you saying that your friend bought a virtual pet and didn't get a gift box? If that's the case, tell your friend that the gift box will be awarded to the dock as soon as the pet's first request is fulfilled. Hope that helps!
Want to write to Webkinz?
Send your letters to:
Ganz #04360 Industrial Parkway
Cheektowaga, NY
14227-9903
Have more questions? Ask them below and you might be featured in the next edition of Fan Mail with Fiona!