It's me, Fiona, back for another round of fan mail! As always, for my past answers, click here! If you miss me, you can always head to KinzPost and send a letter or a package, and I'll deliver it for you! Don't forget, you can add me as a friend by going to KinzChat and adding Fiona Feathers (include the space!).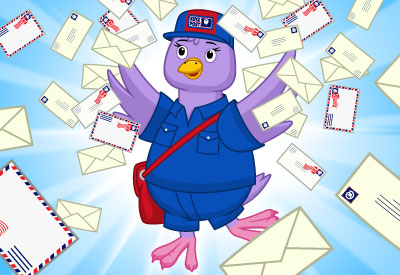 Dear Fiona, Ganz has been talking about not doing the GanzWorld points anymore, but when are they getting rid of it? — kittymade10
Hi, kittymade10! It's true that GanzRewards will be leaving us, but we don't know when. There won't be any new prizes added, but you can continue to earn and spend GanzRewards in the meantime.

Hey Fiona I have a question, I've always wanted to know how many staff you guys have, like is it a few 100? or more? I know game companies have a lot of people working and I always thought it was interesting how a lot of people could work on a game project or a online game. – metaknight200
Thanks for your question, metaknight200! That's a tricky question to answer, as Webkinz World is just a tiny part of a huge ol' company, and many folks wear multiple hats — but it's safe to say that as few as 30 people to more than 300 have at times worked on games produced by Ganz.
Hey Fiona! I was wondering- with May being all about birdwatching, what kind of bird are you? I don't think there are any pets like you in Webkinz… I was thinking you might be a pigeon because there used to be carrier pigeons that delivered messages- which is kind of your thing! If so, I'd love to see a pigeon pet in Webkinz! :D – bullseyejingles444
You got me! I sure am a carrier pigeon. I would love to see more of my kind in Webkinz World, so I will definitely pass that suggestion on.
Want to write to Webkinz?
Send your letters to:
Ganz #04360 Industrial Parkway
Cheektowaga, NY
14227-9903
Have more questions? Ask them below and you might be featured in the next edition of Fan Mail with Fiona!