It's me, Fiona, back for another round of fan mail! As always, for my past answers, click here! If you miss me, you can always head to KinzPost and send a letter or a package, and I'll deliver it for you! Don't forget, you can add me as a friend by going to KinzChat and adding Fiona Feathers (include the space!).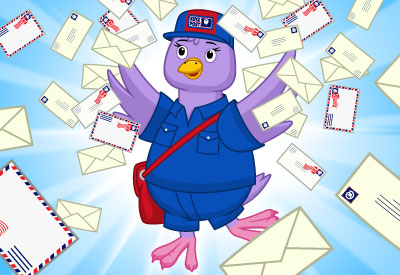 Dear Fiona: I've heard a lot of talk in the comments about there being a limit to the number of Webkinz you can adopt on one account. Is it true that there is a limit? I didn't think there was. -pinkiecupcake
That's a great question, pinkiecupcake! Back in the old days, the more pets you had, the longer it took for your accounts to load. In some cases, the account could become unusable. That's why we used to recommend no more than 100 pets per account… but the programming on that was changed years and years ago. Now there's no official limit, and there are even badges for our super collectors!

Dear Fiona, I noticed that the webkinz mobile app that the separate games are n no longer available is that because we now have the mobile site to use? – dalion2002
Hi, dalion2002! Since we launched the Webkinz mobile app, all of our energies are being poured into making it the best game we can. That means we haven't updated the old standalone apps, and unfortunately they just aren't compatible with the most recent versions of iOS.
Hi Fiona! I doubt this will be responded to since people have asked countless times with no answer, but what was the game Driving School like? – CheekyCat
Wow, what a question! I had to track down the creative director to get an answer on this one. Driving School was a game that was originally slated to be released in Webkinz World soon after it launched, but it was pulled at the last minute. It was listed as an example game in some official forms, but it never actually made it to the site. As far as I hear, it didn't turn out to be very fun, which is why it was shelved.
Want to write to Webkinz?
Send your letters to:
Ganz #04360 Industrial Parkway
Cheektowaga, NY
14227-9903
Have more questions? Ask them below and you might be featured in the next edition of Fan Mail with Fiona!