It's me, Fiona, back for another round of fan mail! As always, for my past answers, click here! If you miss me, you can always head to KinzPost and send a letter or a package, and I'll deliver it for you! Don't forget, you can add me as a friend by going to KinzChat and adding Fiona Feathers (include the space!).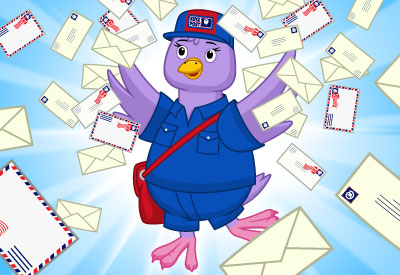 Dear Fiona, I bought my Webkinz from Dollarama about 3-4 years ago. However, now they aren't considered "real" pets. Is there anything you can do to help me fix this problem? -Brie618
Hi, Brie618! Any pet that's labeled as a Webkinz and has a Webkinz tag is a real pet. If, however, the pet came without a tag, or the tag was tampered with and used, you may run into some issues. Your best bet is to get in touch with webkinzsupport@ganz.com to verify your codes were unused.
Dear Fiona, Would you mind passing this along? I was thinking that it would be cool that once the season's clothing items go on sale, the Deluxe items would be available for all players! Have a great day, Fiona! ~rksovis443
Happy to pass the suggestion on, rksovis443! Keep your eyes open for the regular Shopping SPREE events — random old clothing is given away during these, and sometimes they're the Deluxe ones, too.
Dear Fiona, I was wondering if there are plans to make new arcade games to buy from the mall in Spree. I've bought all the current ones and made an awesome arcade/game room! I would love if they made one for Zingoz Zangoz or Hatch the Dragon. I was Deluxe for 3-4 months and played that game many times each day, but was never able to hatch a dragon :( I know it'd take a while to save up mall credits, but it's just too expensive to pay for Deluxe membership every month. Thanks for reading!
Thanks for the suggestion, acstets! I would expect that it's pretty likely that more Arcade units will be added, but I'll be sure to pass your enthusiasm on. Remember, you can always play when the game is the Game of the Day!
Want to write to Webkinz?
Send your letters to:
Ganz #04360 Industrial Parkway
Cheektowaga, NY
14227-9903
Have more questions? Ask them below and you might be featured in the next edition of Fan Mail with Fiona!