It's me, Fiona, back for another round of fan mail! As always, for my past answers, click here! If you miss me, you can always head to KinzPost and send a letter or a package, and I'll deliver it for you! Don't forget, you can add me as a friend by going to KinzChat and adding Fiona Feathers (include the space!).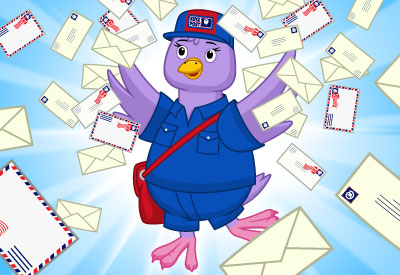 I have an account with very few friends. I want to add to it but it keeps saying you can't add friends now try again later What's up? – ebbe9443
By any chance, do you have a free account, ebbe9443? There's a limit to the number of friends you can have on one of those. If you have a full or Deluxe membership, please contact webkinzsupport@ganz.com for assistance.
Dear Fiona I was planting some seed in the outdoor Room but I put a Stan glass window wallpaper that I did not want can I take it off Thanks honeyleaf!!!
Sorry to hear that, honeyleaf! Your best bet is to get in touch with webkinzsupport@ganz.com and they can put the wallpaper back in your dock.
Hey Fiona, Will Pj Collie ever add the option to use furniture to make clothes for events? – puglet05
That's a great idea, puglet05! While I don't think PJ will start accepting furniture into her Clothing Machine, it's possible that a special "combiner" for furniture might be made in the future.
Want to write to Webkinz?
Send your letters to:
Ganz #04360 Industrial Parkway
Cheektowaga, NY
14227-9903
Have more questions? Ask them below and you might be featured in the next edition of Fan Mail with Fiona!