Everything's coming up tulips!
Every Tuesday until April 12 lovely new offers will be sprouting up in Ganz eStore! We will be featuring some classic Lil pets as well as a new item or two. You can find these offers every Tuesday in Ganz eStore and in the W Shop in the Tulip Tuesdays section!
After they've been picked from the Tulip Tuesday section, you will be able to find these items in the Spring Celebrations Section in Ganz eStore. Easter items will only be available until the end of March!
Week 1
Pets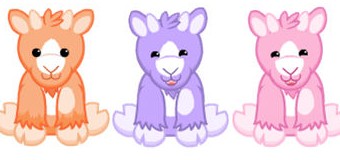 2014 Lil Orange Goat
2014 Lil Pink Goat
2014 Lil Purple Goat
2015 Lil Purple Spring Corgi
2015 Lil Pink Spring Corgi
2015 Lil Yellow Spring Corgi
2012 Lil Piglet Green
2012 Lil Piglet Blue
2012 Lil Piglet Purple
Coming Up…
Week 2
Pets
2011 Lil Lamb Purple
2011 Lil Lamb Pink
2011 Lil Lamb Blue
2013 Lil Green Duckling
2013 Lil Yellow Duckling
2013 Lil Purple Duckling
Week 3
Pets
2009 Spring Celebration Bunny
2010 Lil Springtime Chick Purple
2010 Lil Springtime Chick Blue
2010 Lil Springtime Chick Yellow