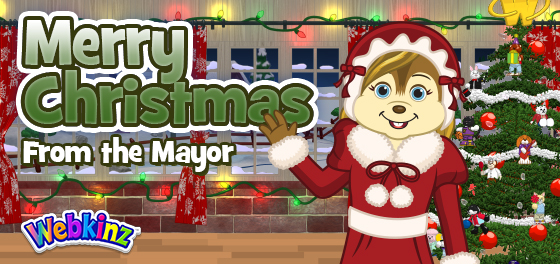 Merry Christmas, everybody! I hope you're all having a happy holiday filled with joy! Don't forget to log into Webkinz World today to get your gift from Santakinz! Which gift did you ask for? Tell me in the comments below! Remember, if you're using the Desktop App, you'll need to quit completely between accounts to collect your gifts. If you forget, you can always log in to the website to get your gift.
While you're logged in, be sure to spin the Super Wheel today! If you're using Edge, remember to switch to Chrome or Firefox (or the Desktop App!) to spin the Super Wheel — it doesn't work with Edge.
Your Christmas gift also includes 25 Snowy Retriever Medallions!  If you're still working towards the 100 Snowy Retriever Medallions you'll need to adopt this adorable pet, you can find up to 4 floating in Webkinz World every day (5 for Deluxe players) until midnight on December 31! Have you adopted a Snowy Retriever yet? What did you name it?
Of course you can keep collecting candy canes until the end of the month to collect awesome prizes! Visit the Kinzville Map when you log in on your computer to collect candy canes and ask your friends for more!
And today is the last day to find Ms. Birdy in the Santakinz Room in the Clubhouse and get your final Countdown to Christmas gift!
It wouldn't be Christmas in Webkinz World without a free gift from our friends at Ganz eStore! Log into Ganz eStore today and add adorable Pink Penguin Slippers to your cart, then check out to get this special gift! Don't have an eStore account? You can set one up for free!
I am so filled with the holiday spirit and so happy to share it with all of you! Have a very Merry Christmas and a Happy Holiday season!
So fab. So fun.