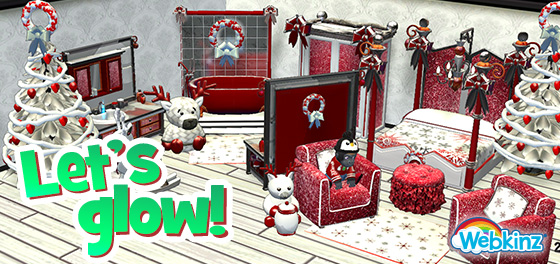 Coming soon to Webkinz Next, a new premium holiday theme: Holiday Silver!
This classy, silver-lined set of items is a sparkling way to celebrate this holiday season with your Webkinz family.
Grab a Holiday Silver cookie from the cookie dispenser and gather around the bright Christmas tree in a couple of red cozy chairs.
Or, settle into a luxurious silver bath before crawling into a four-post bed, tucked away between the cozy storage bench and the rocking horse.
With cookies, a rocking horse, a hamper, a full bathroom and plenty of seating, this theme is perfect for your entire Webkinz Next family. And the good news is, you can share it with your Webkinz Classic family too!
If you already have linked accounts can send items from Next to Classic by clicking the truck icon in the bottom-right corner of your dock.
If you haven't created a linked account between Webkinz and Classic yet, don't worry, it's easy! Just use your Webkinz Classic username and password to sign into Next. Or, if you're already a Next player and you'd like to link your account to Classic, just login to Classic with Next username and password.
The Holiday Silver theme is only available for purchase with diamonds. Visit the W Shop to purchase your items today!
Which item excites you the most?
Follow us
Follow us on social media: